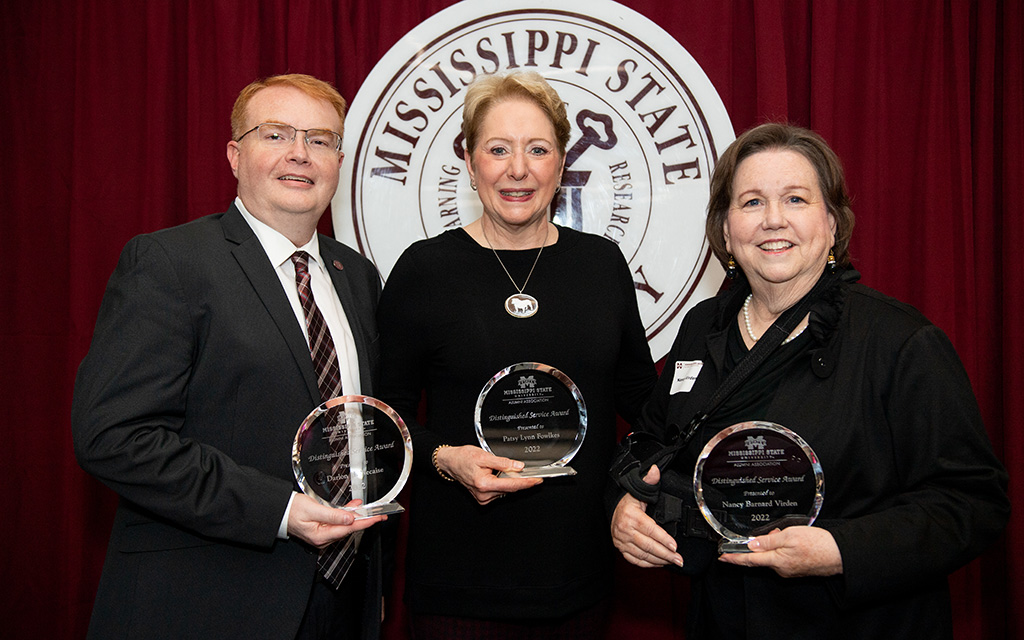 The Distinguished Service Award annually recognizes individuals who have displayed outstanding volunteer and leadership efforts within their local alumni chapter. Their efforts are essential in upholding the mission of the Alumni Association and also bring favorable recognition to the university. Three dedicated alumni are recipients for 2022.
Patsy Fowlkes of Chattanooga, Tennessee, is a 1974 MSU biochemistry graduate who spent her career in pharmaceutical sales. A second-generation Bulldog and Amory native, Fowlkes later did post-graduate studies and research at the College of Medical Sciences, University of Tennessee, Memphis, and at the Oak Ridge National Laboratory. She began her career at Mead Johnson, then Merck, and finally spent 19 years at Schering-Plough.
Upon her retirement from Schering-Plough as director of primary care products, Fowlkes devoted her time to the Greater Chattanooga Alumni Chapter, which attained two Gold Cowbell Awards for the most active alumni chapter of its size under her leadership. She served four years as chapter president and is an avid student recruiter for her alma mater, annually writing hundreds of letters, arranging campus tours, hosting and chairing send-off parties, and assisting with local college fairs. Additionally, Fowlkes was a charter member of Women About Maroon, a women's group promoting the university, and continues to serve on the College of Agriculture and Life Sciences and chemistry department advisory boards.
She and her husband Steve, a fellow MSU alumnus, are longtime supporters of MSU both in the academic and athletic areas. They are most proud of the Steve and Patsy Fowlkes Brandon Presidential Endowed Scholarship, which they established at MSU. In 2006, Fowlkes was honored as the SEC Women's Athletic Supporter of the Year and, in 2018, she was named a Distinguished Fellow for the College of Agriculture and Life Sciences for her outstanding career achievements.
Darlon Necaise of Kiln is a 1997 MSU electrical engineering graduate who serves as a senior system operations engineer for Mississippi Power. He served in a variety of roles for the former Hancock County Chapter, including president and vice president. In his years of service, the chapter was recognized as one of the top three small honor chapters for four years.
Necaise was also integral in coordinating efforts to combine the three former coastal chapters into the current Mississippi Gulf Coast Chapter, enabling greater outreach for the alumni and future Bulldog students along the Gulf Coast. He served as the inaugural vice president of the new chapter and is currently serving as president. Under his leadership, the chapter has continued to expand its fundraising for chapter scholarship awards and created a transfer scholarship to assist local students participating in the Engineering on the Coast program.
In addition to serving as the former coordinator of local send-off parties and chairman of Mississippi Gulf Coast Road Dawgs Tour, Necaise also coordinated the chapter's Relay for Life and Biloxi National Cemetery Laying of the Wreaths events. He continues to be an active volunteer with the Alumni Recruitment Network and is proud to serve his alma mater as a loyal alumnus.
Nancy Virden of Rolling Fork is a 1972 business graduate who has proudly upheld her connection to her alma mater over the years. Using her education, she pursued a successful career in banking. Although she earlier retired from the Bank of Anguilla as senior vice president and director, she continues to serve on its board of directors.
Deeply involved with the Sharkey-Issaquena Alumni Chapter for nearly 50 years, she has held various leadership roles within the organization since 1977. She has volunteered in efforts aimed at student recruitment, fundraising for the chapter scholarship and additional outreach engagements such as send-off parties. Virden also is the co-chair of the chapter's Horace and Florence Newman Bulldog Classic Golf Tournament, with which she has been involved for more than three decades.
Using her keen ability to identify and coordinate unique ways to promote and celebrate the successes of the university and its local students and alumni, Virden continuously brings new and valuable ideas to the table to increase engagement in her community. For her dedication, Virden received the Sharkey-Issaquena Alumna of the Year award in June 2022.
Related posts