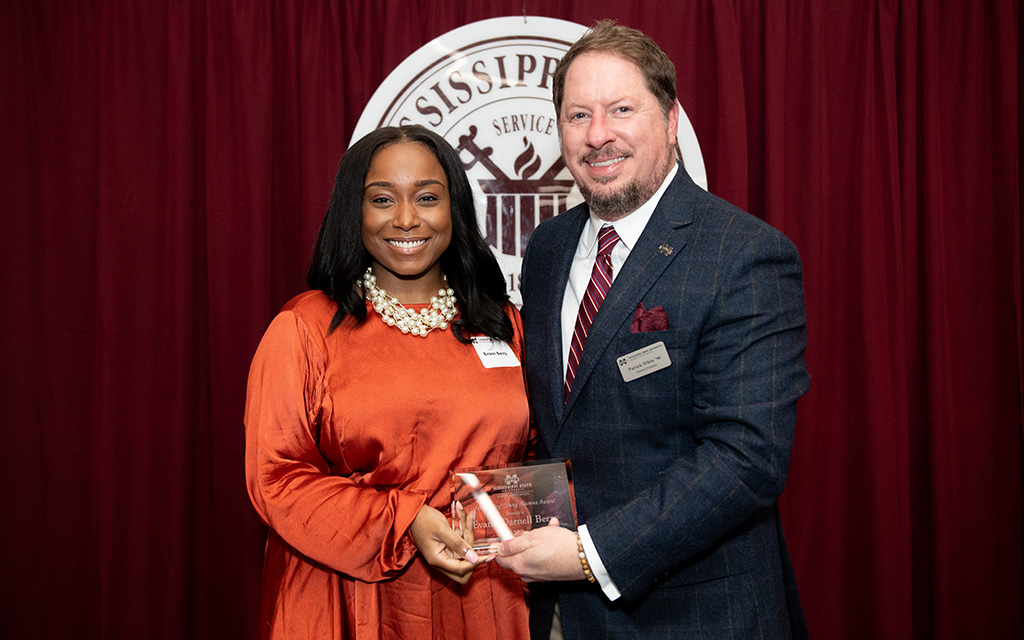 For her professional leadership and service achievements, Evann Darnell Berry of Washington, D.C., has garnered the honor of 2022 Outstanding Young Alumna.
A 2014 MSU graduate, Berry serves as a senior account executive at Edelman. While an undergraduate student at Mississippi State University, she split much of her time between working in the Office of the President and her studies as a biological engineering major. Her campus and community involvement included service as an Alumni Delegate and leadership roles in Alpha Kappa Alpha Sorority, Incorporated. She was also an active member of the National Society of Black Engineers, Gamma Beta Phi Honor Society, Sigma Alpha Lambda Leadership and Honors Organization, Increasing Minority Access to Graduate Education, and the Day One Leadership Community. She was a regular volunteer at the Brickfire Project after-school program, Second Baptist Church, Palmer Home and Habitat for Humanity of Starkville.
The Jackson native has continued her service to the university after graduation as chair of the Young Alumni Advisory Council and an active member of the Washington D.C. Alumni Chapter executive board, where she most recently served as president. Upon joining the board in 2016, Berry played an active role in establishing the D.C. Chapter Endowed Scholarship and hosting various chapter events aimed at increasing member engagement in the area. As young alumni council chair and vice-chair, she has championed alumni programming tailored to the younger demographic, which has led to the group's staple "Welcome to the City" networking events, the young alumni travel program, The Reveille 25 awards and the Young Alumni Newsletter. She also worked to bolster alumni giving among the 25-40 age group by encouraging regular giving through the MSU Foundation and the young alumni scholarship.
As Berry has moved up the ranks in her career on Capitol Hill and in global public relations, she has made it her mission to mentor MSU students and alumni along the way. A true representation of what it means to pay it forward, she has served on panels for student groups such as the Stennis Montgomery Association and successfully helped MSU students and alumni secure internships and employment in the Washington, D.C. area. Through her service to Mississippi State University and its alumni, the state of Mississippi, and her local Jackson and Washington, D.C. communities, Berry exemplifies true servant leadership, and MSU is proud to honor her as the 2022 Outstanding Young Alumna.
Related posts