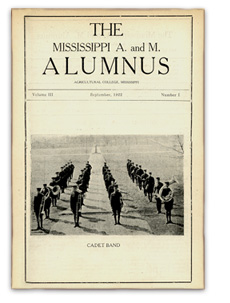 First published in 1921, Alumnus Magazine is the official publication of the MSU Alumni Association. Produced three times per year, the magazine provides communication between the university and its alumni and friends. Each issue showcases the accomplishments and changes of our institution's faculty, staff, students and alumni.
The magazine is created by the Office of Public Affairs and the Mississippi State University Alumni Association.
HOW CAN I GET ALUMNUS?
Want Alumnus magazine delivered to your home? A gift of any amount made through the Mississippi State University Foundation puts you on the mailing list for a year.
HOW CAN I UPDATE MY ADDRESS?
Send address changes to Alumni Director, P.O. Box AA, Mississippi State, MS 39762-5526; telephone 662-325-7000; or email [email protected].
CONTACT US
Do you know someone who should be highlighted in Class Notes or remembered in Forever Maroon? Send an email to [email protected].
Office of Public Affairs
Mississippi State University
P.O. Box 5325
Mississippi State, MS 39762
Phone: 662.325.3442