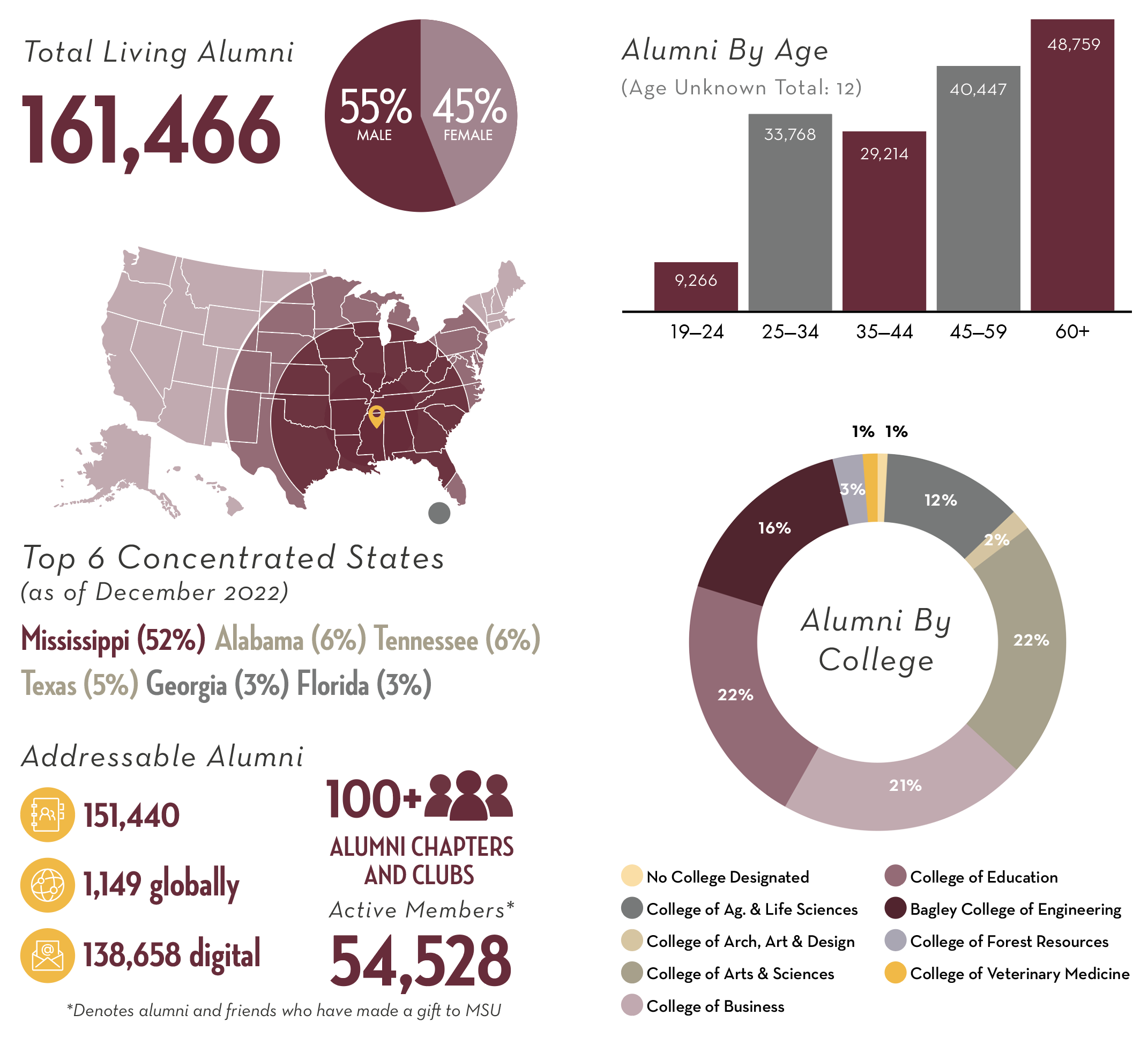 About Alumnus Magazine
Circulation: Reaches our nearly 54,000+ active Alumni Association members

Audience: Active alumni and supporters of Mississippi State University

Issue Publishing Dates: April, August, and December

Ad Confirmation Dates: Oct. 21 (for April); Feb. 10 (for Aug.); and June 23 (for Dec.);

Artwork Due Date: Feb. 15 (for April.); June 15 (for Aug.); and Oct. 15 (for Dec.)
Advertising Info:
All ads are printed in four-color. Ad rates are per single issue. Contact Leanna Smith for more details regarding rates.
Full-page, camera-ready
Half-page, camera-read
Quarter-page, camera-ready
PLEASE NOTE: WE CANNOT ACCEPT TIME-SENSITIVE ADVERTISEMENTS.
Due to postal regulations governing the magazine's mailing class, we cannot accept any ads promoting credit cards, travel packages or insurance.
To place an ad, contact Leanna Smith
P.O. Box AA
Mississippi State, MS 39762-5526
Phone: 662.325.3360
Fax: 662.325.8425
Email: [email protected]
For additional information on specs, contact Heather Rowe
P.O. Box 5325
Mississippi State, MS 39762-5325
Phone: 662.325.3442
Fax: 662.325.7455
Email: [email protected]
---
PRINT AD SPECIFICATIONS
Full-page w/ bleed:
9.25" W x 11.125" H
(1/8 bleed already included in above dimensions)
Full page, no bleed:
8″ W x 9.875" H
Half-page, horizontal:
8" W x 4.875" H
Half-page, vertical:
3.875" W x 9.875" H
Quarter-page:
3.875" W x 4.875" H
ARTWORK DUE DATES
February 15 (for April.)
June 15 (for August)
October 15 (for December.)
Electronic Advertising File Requirements: All ads are assumed to be press-ready for publishing. All ads should be 300 dpi with 150 line screen and, if in color, should be converted to CMYK. All files and submitted email should be clearly labeled with individual or agency name, phone number and email. Also, please indicate what software was used to create the ad. Document size should correspond to ad size.
FILE FORMATS: PDF, EPS, TIFF
Example of filenames to submit: sourcename_halfpage_horizontal.pdf
sourcename_fullpage_wbleed.pdf
ART SUBMISSION: Email files to [email protected] and [email protected]. Be sure to include in the email the issue of the magazine in which the ad is to appear, and the size of the advertisement.