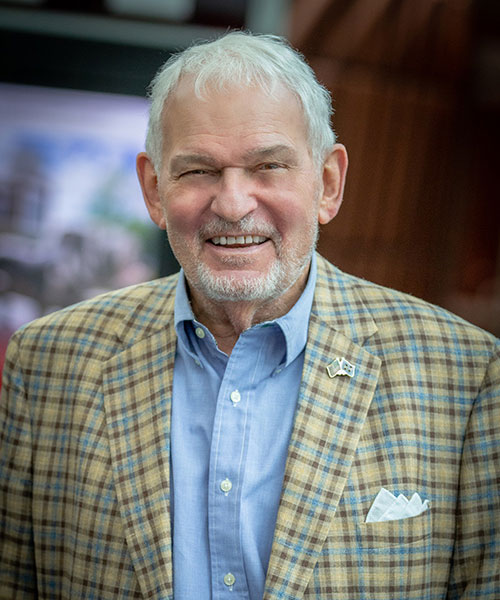 Each year since 1958, Mississippi State University has recognized an outstanding graduate whose accomplishments and service exemplify the mission of the university through the National Alumnus of the Year award. This year, MSU is proud to distinguish Albert C. Clark as the 2023 National Alumnus of the Year.
Born and raised in Starkville near the university campus, Clark has been a Mississippi State Bulldog his entire life. He grew up in the Coca-Cola business and began working in the family company after graduating from the MSU College of Business in 1965.
Today, he continues to serve as president and CEO of C. C. Clark Inc., a family holding company and parent corporation with subsidiaries selling soft drinks in Mississippi, Kentucky, Alabama and Indiana and distributing beer in Kentucky and Mississippi. Incorporated in 1931 as the holding company for the Clark Group of Companies, C.C. Clark Inc.'s beginnings date back to a small, soda-water operation opened by Clark's grandfather in 1903. Clark also serves as the vice president for Clark Distributing Company and the Clark Beverage Group and as president and CEO of Gulf State Canners Inc.
Clark is a leader in the community and within his industry, having served in a number of voluntary roles over the years. He has served on the board of BancorpSouth Bank Inc. and as former chairman of First Federal Bank for Savings. A longtime member of the Greater Starkville Development Partnership, he also has dedicated his time and support to the Oktibbeha County Economic Development Authority board, Starkville Rotary Club, Starkville Chamber of Commerce and the Mississippi Economic Council.
Additionally, Clark served as the Mississippi international director for the National Skeet Shooting Association from 1968-78. His passion for shooting sports landed him on the Sports Afield magazine All-American skeet team in 1975 and Field & Stream magazine's All-American skeet team in 1979 and 1980. He also was a member of a five-man skeet team that broke two world records in 1969 and 2000.
He shares his passion with his wife and fellow Bulldog graduate, Glenda Bell Clark, who was a member of Mississippi State's women's shooting team during her time as a student. The couple, who met through mutual friends at a Sigma Chi fraternity party, recently celebrated 50 years of marriage.
The couple has two children, Morgan and Cameron, both of whom are also Bulldog alumni. Morgan is a 2000 graduate of the College of Business and Cameron is a 2005 graduate of the College of Arts and Sciences.
The Clarks enjoy traveling and have visited all seven continents. Yet, throughout the years and miles traveled near and far, Clark has always maintained a strong connection with his alma mater.
He is a member and past president of the MSU Foundation board of directors and previous board member for the Bulldog Club. He also is a former member of the MSU Alumni Association's national board.
His tenure as president of the MSU Foundation from 1992-95 positioned him as a key leader in the university's first capital campaign, The Campaign for Mississippi State: To Serve Mississippi…and Beyond. Launched in July 1992 and publicly announced in April 1993, the campaign set a goal of $78 million in five years. The goal was surpassed in 1994, three years ahead of schedule, and the successful campaign concluded in 1997 with $143 million raised. At the time, it was the largest major gifts campaign in the state's history, and Clark is proud of the collective accomplishment and the impact it had on the university.
Clark has supported various areas across the university for some 30 years. He and Glenda have generously invested in scholarships, Bulldog athletics, the College of Business, facilities and other priority areas. They are avid supporters of MSU's students and faculty, having created the Albert C. Clark Scholarship, Albert and Glenda Clark Loyalty Scholarship and Albert and Glenda Clark Faculty Support Fund.
Beyond his personal support, Clark and his family have been dedicated supporters of the university through their family business for several generations. Today, his children are helping to continue that legacy of philanthropy at MSU.
For his outstanding contributions, Clark was recognized as the College of Business' Alumnus of the Year in 2004 and was recognized as one of the college's 100 Most Distinguished Alumni during its centennial celebration in 2015. He was also named a "Living Legend" by the Coca-Cola Bottlers Association in 2013.
A leader in his personal and professional endeavors, Clark is an excellent role model for current and future generations of the Bulldog family. Mississippi State University is grateful for the opportunity to honor Clark and what he has accomplished along his journey as a respected leader and dedicated servant.
Related posts