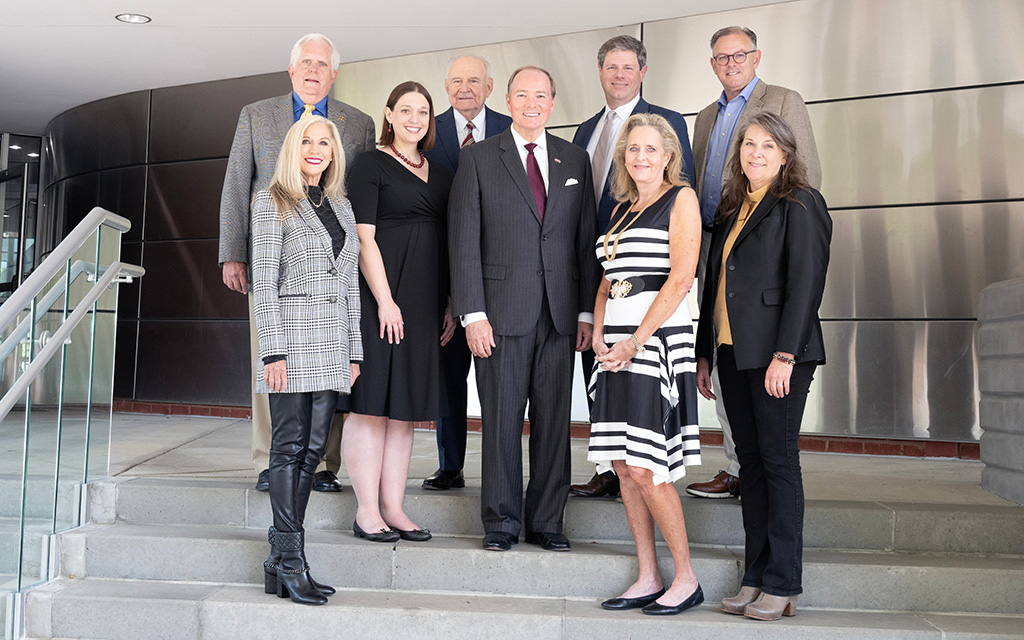 The Mississippi State University Alumni Association is proud to recognize eight outstanding graduates who represent their respective academic colleges as the 2023 College Alumni of the Year. These individuals are recognized for their many accomplishments and the Bulldog spirit they embody in their personal and professional lives.
---
College of Agriculture & Life Sciences
Jeff Tarsi of Collierville, Tennessee
Executive vice president and president of global retail for Nutrien Ag Solutions, he earned a bachelor's degree in agricultural economics in 1984.
As a farm kid growing up in the Mississippi Delta, Tarsi's dream was to work his family's land, located outside of Cleveland. He followed his father's footsteps to MSU, where he was involved with the National Agri-Marketing Association and Agricultural Economics Club. He also is a graduate of the Harvard agribusiness program and Purdue strategic marketing course. Although his farming dream didn't work out, he still established a successful career in the ag industry that has spanned more than 30 years and multiple leadership roles.
He first joined a Nutrien legacy company in 1997 and served in a number of key leadership positions over the years, including vice president of retail international and strategy, where he was responsible for the retail businesses in Chile, Argentina, Uruguay, Brazil and Australia. More recently, he served as senior vice president of North American operations for Nutrien's retail business. Tarsi assumed his current role last year, enabling him to lead a network of 2,000 retail farm centers and more than 20,000 employees across three continents. He also is president of Nutrien's political action committee, serves on the boards of Agricen Ltd. and Waypoint Analytical, and is a former board member for the Mississippi Agricultural Industry Council and past executive board member of the Agricultural Retailers Association.
---
College of Architecture, Art and Design
Anne Marie Duvall Decker of Jackson
The 1994 architecture graduate is a founding principal partner of Duvall Decker.
Decker was MSU's Eminent Architect of Practice in 2015, is a recognized contributor to the advancement of the profession and was selected by the Architectural League of New York to present at the 2017 Emerging Voices lecture series. She is a long-term board member and past president of the American Institute of Architects Mississippi and is a trustee and 2021 chair of the AIA Trust. Decker is often invited to share her experience as a lecturer, critic, visiting professor and design juror. She was recently appointed to serve the U.S. Department of State Bureau of Overseas Buildings Operations as a 2021-23 Industry Advisory Group peer. In 2004, she was honored as the MSU College of Architecture, Art and Design's Alumni Fellow and has maintained strong connections with her alma mater over the years.
A native of Humboldt, Tennessee, Decker founded Duvall Decker in 1998 with her husband, Roy. She credits the MSU School of Architecture's strong program and faculty leaders with helping to guide her toward a successful career she loves.
---
College of Arts and Sciences
Gus Colvin Jr. of Alexandria, Alabama
A 1962 history graduate of MSU, Colvin also earned a Juris Doctor from the University of Mississippi in 1965. He is the retired district court judge for the Calhoun County District Court in Anniston, Alabama.
The Lincoln, Alabama, native transfered to Mississippi State, quickly finding a new "home" at MSU. After graduation, he spent 23 years practicing law and was elected district court judge for Calhoun County four times, serving 22 years. Colvin also served as the General Guardian of Calhoun County for two decades.
Outside of his career, he has been an active member and treasurer of the Alexandria Civitan Club for nearly 40 years. At MSU, he is a longtime member of the Bulldog Club, the Leo Seal Society and the Dugout Club.
---
College of Business
Cynthia Anne Tucker of Houston, Texas
A third-generation Bulldog and two-time MSU graduate, Tucker earned a bachelor's degree in economics in 1977 and an MBA in 1978. She retired as director of business development and emerging technologies of ConocoPhillips, where she spent her 35-year career in progressive technology information and development-related roles.
Tucker began her career with Conoco in Ponca City, Oklahoma, where she worked in the information technology department. She later moved into operations where she focused on a wide variety of downstream activities, including refining optimization, trucking management and crude sales. In 1998, she relocated with her family to Russia, where she oversaw and managed crude sales, transportation and health and environmental safety. The Tuckers returned to the U.S. in 2000 and she continued to assume progressive roles focused in areas from marketing and freight to sales and contract negotiations.
The Aberdeen native never imagined going to school anywhere besides State. As a student, she was named Outstanding Senior Woman, Who's Who and was inducted into the MSU Hall of Fame. She credits her interests in economics to the excellent professors at MSU—namely Rose Rubin and Kathy Gilbert.
Today, Tucker serves on the MSU College of Business's executive advisory board and is a longtime member of the Bulldog Club. She also is a loyal supporter of student scholarships, which she has helped fund at her alma mater for over 20 years.
---
College of Education
Cheryl Prewitt Salem of Rancho Mirage, California
Co-founder of Salem Family Ministries, Salem graduated from MSU in 1979 with a bachelor's degree in music education and later received an honorary Doctor of Divinity from Heritage University and Seminary.
A native of Choctaw County, Salem represented her alma mater as Miss MSU at the Miss Mississippi pageant during her junior year, where she was named first runner up. After graduating from State, she took the stage again as Miss Starkville, winning Miss Mississippi and ultimately becoming Miss America 1980. Since then, she has used this distinction as a springboard to launch the gospel into churches, women's conferences and television appearances. In addition to co-hosting a daily television program for five years, Salem also worked with U.S. Presidents Reagan and Bush in the early 1980s and was honored to be the speaker for the National Day of Prayer.
Salem's love for music attracted her to MSU's music department, where she served as the university's piano accompanist during all four years of her undergraduate studies. She has also used her passion for music in her career, recording numerous worship music projects from prophetic books of the Bible, lullabies, instrumentals, prophetic flowing intercession and worship CDs. Together with her husband Harry, Salem has written over 40 books. She also is the founder and president of her own production company, C.P. Annie Productions, as well as Women of The Nation, an organization that brings together women to support America. Of all her accomplishments, she is most proud of her children and grandchildren.
---
James Worth Bagley College of Engineering
Anthony L. Wilson of Gulfport
Wilson earned an electrical engineering degree from MSU in 1987. He also holds an MBA from the University of Southern Mississippi and is a graduate of the advanced management program at Oxford University in England. He serves as chairman, president and CEO of Mississippi Power Company.
The D'Ibervile native has worked his entire professional career in the Southern Company system. He started at Mississippi Power in 1984 as an engineering cooperative-education student in Biloxi and joined the company full time after graduating from MSU. He earned increasing positions of leadership, including manager of the company's Meridian Division. He moved to Georgia Power in 2002 and held several executive leadership positions before returning to Mississippi Power in 2015 as president and CEO.
An advocate of economic development and education, Wilson has volunteered his time in numerous civic, community and charitable roles. He serves in key positions on the board of directors for the Mississippi Economic Council, Mississippi Energy Institute and the Gulf Coast Business Council. At MSU, Wilson is the chair of the university Foundation's board of directors after serving as vice chair for three terms. He also serves on the advisory board for the Bagley College of Engineering.
---
College of Forest Resources
Lee Temple Jr. of Madison
He earned a bachelor's degree in forestry in 1972 and retired from a 44-year career with Georgia Pacific as region general manager of fiber, responsible for all fiber purchases and sales at the region's paper mills, sawmills and manufactured board operations.
A native of Tuscaloosa, Alabama, Temple first learned about the forestry profession from a book in his high school library. He knew it was the right path for him due to his love of natural resources and the outdoors. When he enrolled at Mississippi State in 1968, ROTC was required. Although it was later made optional, Temple stuck with it and was commissioned second lieutenant in the U.S. Army Branch Infantry upon graduation. As a student, he was elected student vice president of the School of Forestry and was inducted into several honorary fraternities.
Upon graduation, he was hired by Georgia Pacific as a procurement forester at the newly built sawmill in Columbia, South Carolina, in 1972 but was first required to fulfill his military commitment at Fort Benning, Georgia. He graduated from the U.S. Army's Infantry Officers School in 1973 and served the remainder of his obligation in the Reserve forces, ending his career as company commander of a mechanized infantry unit.
Temple returned to Georgia Pacific, where he held progressive leadership roles for more than four decades before retiring. During his career he was responsible for the company's Landowner Assistance Program, region safety, satellite chipping facilities and managing several procurement roles at manufacturing facilities before moving to the region office as operations manager. Beyond his professional endeavors, he has served as president of the Mississippi Forestry Association, chairman of the Four Lakes Chapter Society of American Foresters and president of the Grenada Rotary Club, as well as serving as deacon and other leadership roles at his church.
---
College of Veterinary Medicine
Victoria Hall, DVM, MS, DACVPM of Saint Paul, Minnesota
A three-time MSU graduate, Hall earned a bachelor's degree in animal and dairy sciences in 2011, followed by a Doctor of Veterinary Medicine in 2014 and a master's degree in veterinary medicine in 2015. She serves as the Patrick T. Redig Endowed Chair in Raptor and Ecosystem Health and executive director of The Raptor Center at the University of Minnesota College of Veterinary Medicine.
Born and raised in Cincinnati, Ohio, Hall realized her calling to the veterinary profession at a young age. She spent substantial time working at the Cincinnati Zoo, educating and inspiring the public on wildlife and conservation, and also worked at a local veterinary clinic operated by MSU alumni who first introduced her to the university's premier veterinary program.
As a student, she was involved with MSU's Shackouls Honors College. She also participated in a study abroad experience to Kenya, where she conducted wildlife management research and became immersed in the One Health research intersection that seeks to solve global challenges through collaborative approaches at the human, animal and environmental health interface. In veterinary school, she founded the College of Veterinary Medicine's summer Vet Camp program to provide hands on learning to youth in veterinary, science, technology, engineering and math topics.
Hall has made a career working on global One Health projects, including working with organizations such as the Food and Agriculture Organization of the United Nations and the USDA's Foreign Agriculture Services on projects involving global ecosystem health training programs, zoonotic animal diseases and antimicrobial resistance. She responded to human health outbreaks as an epidemic intelligence service officer for the Centers for Disease Control and Prevention and served as a veterinary epidemiologist and deputy public health officer for the Smithsonian Institution. At MSU, she has served on the Young Alumni Advisory Council and as an adjunct professor in the College of Veterinary Medicine.
Related posts