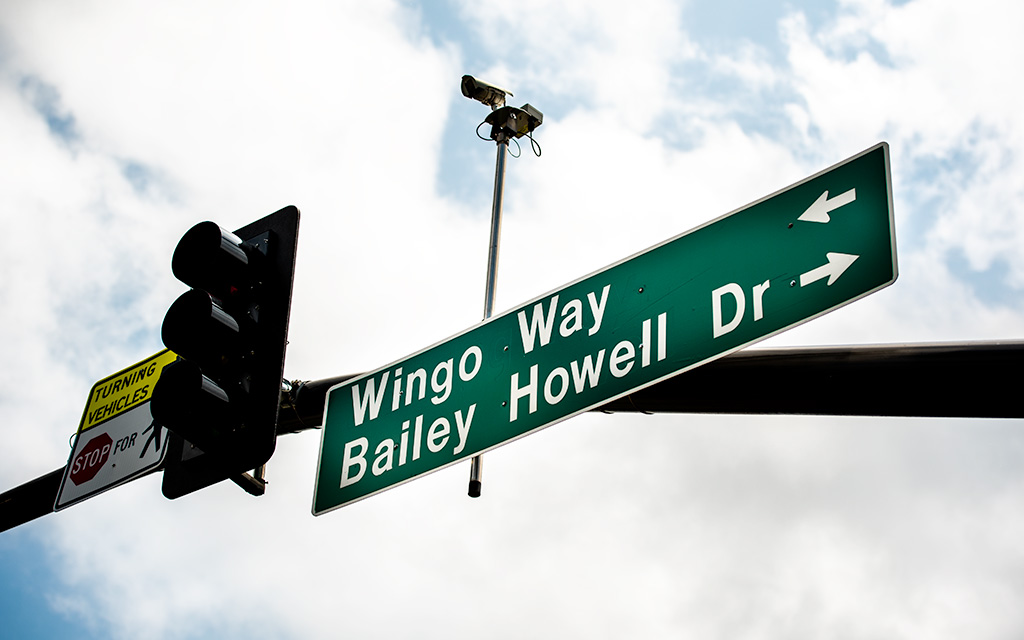 Mississippi State University celebrated the newly added Wingo Way, named in honor of alumni brothers Turner and Dean Wingo, and their families, with a ribbon-cutting ceremony in February.
The two-mile road opened shortly before the start of the fall semester along the eastern perimeter of campus. connecting Blackjack Road with Lee Boulevard and Bailey Howell Drive.
"Mississippi State University is taking care of what matters because of the wonderful investments people like Turner and Dean Wingo are making in their alma mater. They appreciate and value the job we're doing as well as our commitment to giving our students hands-on learning and research experiences and unique opportunities to serve their communities," MSU President Mark E. Keenum said. "We are grateful for the Wingo family's many contributions to Mississippi State, and it is most fitting to honor them by naming this major campus infrastructure addition in their honor."
Wingo Way is the result of long-term planning for university infrastructure to accommodate increasing traffic, aiding campus safety and accessibility. The $7 million project was made possible by a 2017 Transportation Investment Generating Economic Recovery (TIGER) grant to the university announced by the late U.S. Sen. Thad Cochran in 2018.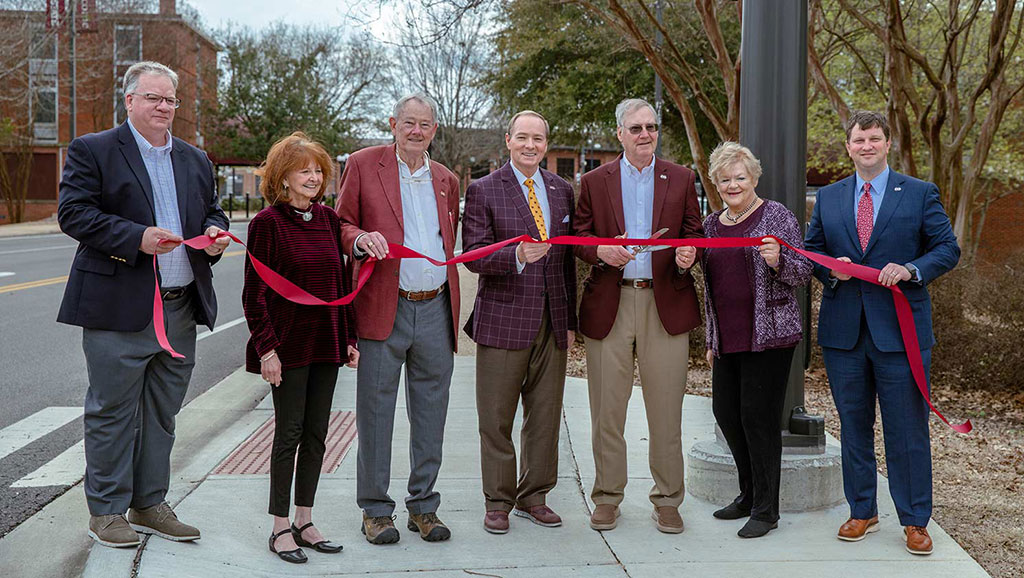 The north-south, multimodal passage incorporates sidewalks, bike lanes, transit shelters, traffic signal improvements and street lighting. Enhancements are also ADA compliant.
When MSU broke ground on the project in 2020, the corridor was initially named Bulldog Way. However, the decision was made last fall to rename the road in honor of the Wingo family for their longtime support to the university.
"Turner, Gloria, Dean and Lauran are exemplary leaders whose commitments have made positive and lasting differences at and through Mississippi State," said Jack McCarty, executive director of development for the MSU Foundation. "Their collective giving has touched nearly every area across campus in one way or another."
Turner Wingo is a retired businessman who earned his degree from MSU in business administration in 1967. Over the years, he has generously invested in Mississippi State through scholarships in the colleges of architecture, art and design, business and engineering, Bulldog athletics, the Turner A. Wingo Endowed Professorship in the College of Business, campus facilities and the Starkville-MSU Symphony.
His contributions also led to the establishment of the Turner A. Wingo Maker Studio in the MSU Idea Shop, which assists ambitious students and entrepreneurs in the community with transforming their ideas into successful business ventures, and the newly renovated dean's suite in the College of Veterinary Medicine.
"I like helping kids," said Turner, who, along with his wife Gloria, enjoys meeting with his scholarship recipients. "My MSU degree played a big role in helping me to achieve my own business success and I enjoy being able to give back to the university, but at the end of the day, I am just happy to help students."
A member of MSU Foundation's board of directors, Turner was named MSU's National Alumnus of the Year in 2016 and was earlier recognized as Alumnus of the Year for the College of Business in 2011. He and his wife Gloria reside in Starkville.
Dean Wingo, a 1970 business graduate, has enjoyed a successful career in real estate and investment management and currently serves as president of City Center Inc. He also currently serves on of the Bulldog Club board and is a former member of the MSU Foundation board.
He and his wife Lauran have supported various areas across MSU, including annual and endowed scholarships, the Dean and Lauran Wingo Endowed Classroom and Faculty Excellence funds in the College of Business and the T. K. Martin Center—the latter of which holds a particularly special place in their hearts.
"After visiting the T.K. Martin Center and seeing Kendrell Daniels painting with his toes in the Express Yourself! Art Program, we realized what a difference the center was making in people's lives," said Dean. He and Lauran were impressed with the services and outreach provided by the T.K. Martin Center and have made several commitments to help advance its programming and reach.
The Collierville couple has also contributed significantly toward recent athletic facility projects including Mize Pavilion, the Leo W. Seal Jr. Football Complex, and the expansions of Davis Wade Stadium and Dudy Noble Field.
Together, the Wingo brothers also created a Presidential Scholarship bearing their names. The Dean and Turner Wingo Presidential Endowment has awarded $100,000 to high-achieving scholars since its establishment in 2013.
"The Wingos' legacy is etched into countless areas across the university that have benefited from their generosity, and we are proud to honor their loyalty and service to MSU through the naming and dedication of Wingo Way," said McCarty.
By Addie Mayfield, Photos by Grace Cockrell & Chad Hathcock