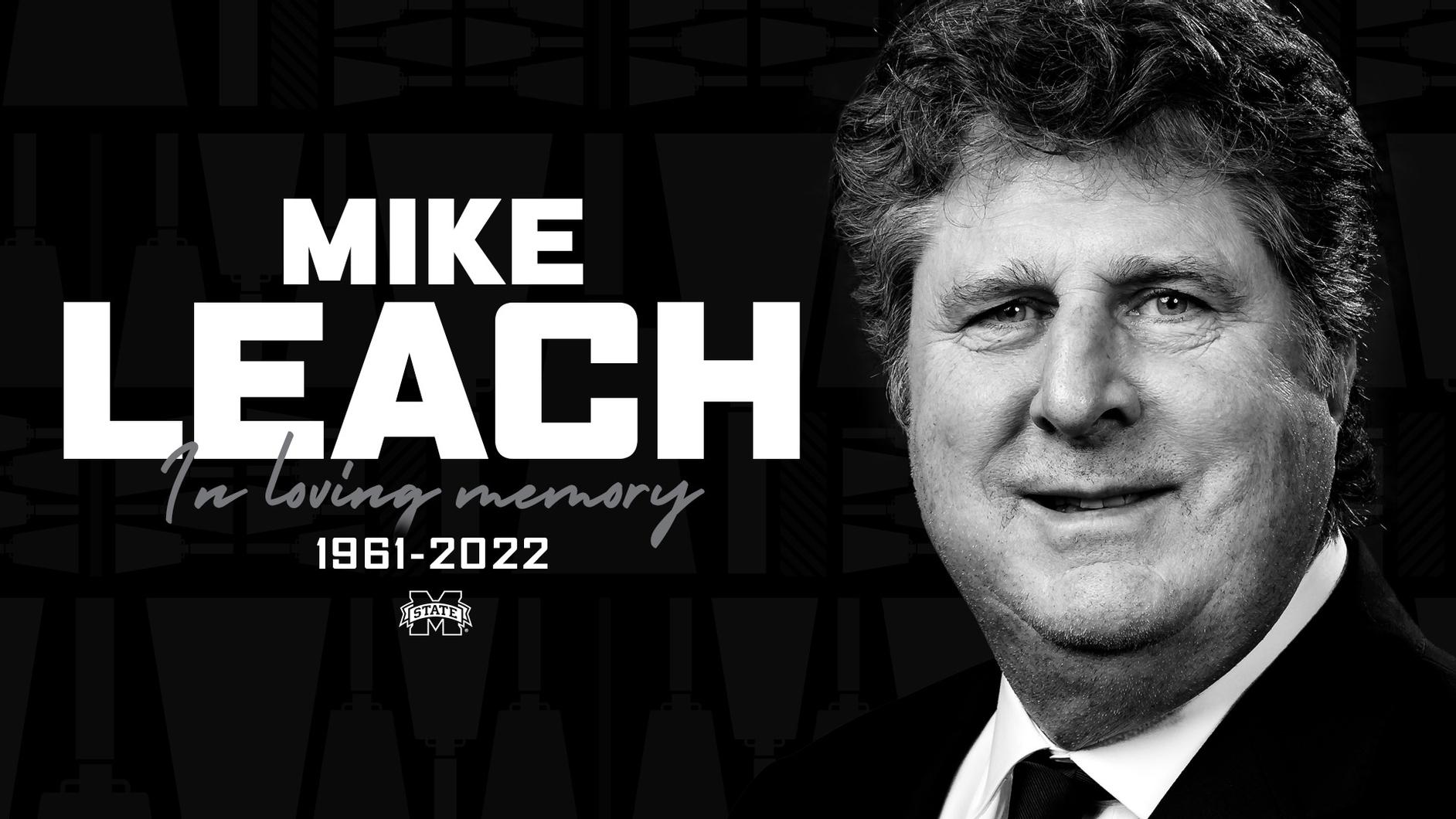 An endowed memorial scholarship has been created at Mississippi State University to remember and honor the late head football coach Mike Leach, known as one of the sport's greatest offensive innovators.
The Mike Leach Endowed Scholarship upholds the legacy of Coach Leach in a meaningful and lasting manner that will directly benefit MSU students in attaining their education.
"Our university is special because of the remarkable people who are part of it, and Mike Leach was one of those truly remarkable members of our Mississippi State family. He had an intense curiosity and deep passion for education and lifelong learning. He was always ready to learn something new and to share it with everyone around him," MSU President Mark E. Keenum said. "It is most fitting that we honor him and ensure his lasting legacy with an endowed scholarship fund to support our students. This support will make a positive difference in many lives—just like our beloved Coach Mike Leach did."
Born in Susanville, California and raised in Cody, Wyoming, Leach graduated with honors from BYU in 1983. He later earned a master's degree from the U.S. Sports Academy and his Juris Doctor from Pepperdine University, where he graduated in the top one-third of his class.
Leach began his coaching career in 1987 as an assistant at Cal Poly-San Luis Obispo before coaching stops at College of the Desert in 1988 and as a head coach in the European Football League in Pori, Finland, in 1989.
For nearly four decades, Leach had an unmatched impact on the game of football including thousands of student-athletes, coaches and staff. He was a two-time national coach of the year, three-time Power 5 conference coach of the year and the mastermind behind the NCAA record-setting "Air Raid" offense.
The accomplishments for Leach in his 21 years as a head coach were long and distinguished. A proven winner who established a culture of excellence at every stop of his career, Leach compiled a 158-107 (.596) record, guided his squads to 19 bowl games, produced seven seasons of at least nine victories, captured two conference division titles, became the winningest coach in Texas Tech history and set school records for bowl appearances at both Texas Tech (10) and Washington State (6). During 10 of those 21 seasons, Leach's passing attack led the FBS – six at Texas Tech and four at Washington State.
One of the most successful coaches in the history of college football, Leach's 158 career wins as an FBS coach are the second-most among active SEC coaches and the fifth-most among active Power 5 coaches. Of the 50 most productive passing yardage seasons in FBS history, 10 came from quarterbacks coached by Leach since his hiring as head coach at Texas Tech in 2000.
A passionate educator, mentor, historian and lifelong learner, Leach had great admiration for academics. He instilled that in his players, as his teams routinely set records for GPA and graduation rate. A masterful storyteller, Leach authored a New York Times best-selling autobiography in 2011 titled Swing Your Sword: Leading the Charge in Football and in Life. He later wrote Geronimo: Leadership Strategies of an American Warrior in 2014.
Leach was named MSU's 34th head football coach in 2020 after leading the football programs at Texas Tech, Washington State and Iowa Wesleyan universities. He led the Bulldogs to a 19-17 record, including an 8-4 mark in 2022, and bowl appearances in all three seasons. Leach's offense led the SEC passing in each of the last two seasons. The Bulldogs defeated seven AP Top 25 opponents during Leach's MSU tenure, which tied for third most by a Bulldog head coach. Leach coached MSU to its two largest comebacks in program history in 2021.
Leach died on Dec. 12, 2022, at the University of Mississippi Medical Center in Jackson. Forever a college football icon, he leaves an incredible legacy as a husband, father, friend and leader of young men.
"Mike certainly did a lot of good for our university in the short time he was here," said Bobby Shackouls, 1972 alumnus and former chair of the MSU Foundation Board. An ardent supporter of the university over the years, Shackouls, along with his wife Judy, made the lead gift for the scholarship endowment. "I only met him on a couple of occasions, but he was as unassuming and hilarious as all the media accounts have reported. We would like to honor his memory and all that he did for MSU and hope this scholarship will inspire others to do the same."
"Coach Leach's impact on college football and Mississippi State University will never be forgotten," MSU Director of Athletics Zac Selmon said. "Coach Leach was a lifelong learner and proud owner of three college degrees. He had a deep respect for academic achievement and made countless lasting contributions to the lives of students, student-athletes and campus communities. This endowed scholarship is a terrific way to extend Coach Leach's impact on higher education while continuing to honor his legacy."
The Mike Leach Endowed Scholarship is an open fund in the MSU Foundation. For more information on the award or to make a gift in memory of Coach Mike Leach to the Coach Mike Leach Endowed Scholarship, contact the Foundation at 662-325-7000 or visit msufoundation.com/MikeLeach.