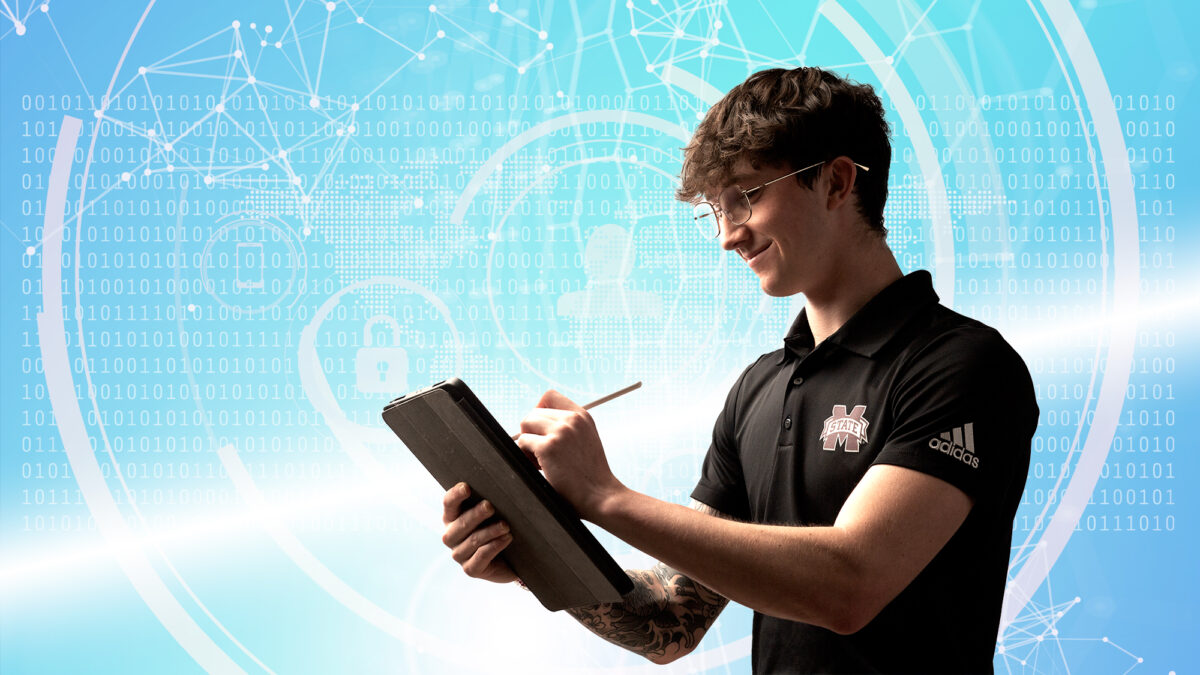 MSU propels students into high-demand careers with new data science degree
In Mississippi's agricultural fields, new technologies and sophisticated data techniques can conserve resources and improve yield. In the state's manufacturing facilities, companies can use data to predict equipment maintenance needs, prevent injury and increase efficiency. At the state capital, data can provide lawmakers with new insights on education, workforce and other key areas.
These are just a few of the ways data science can be used to provide growth in Mississippi and around the world. With these opportunities comes an increasing public and private sector demand for people with the skill set to harness the power of data and digitally transform organizations. The U.S. Bureau of Labor and Statistics expects the number of data scientists to grow by 36% from 2021 to 2031–but even that could be an underestimation.
In an effort to help meet that demand and create a workforce to position Mississippi for success in tomorrow's economy, MSU has launched a new academic program in data science. Program director Mimmo Parisi said the curriculum equips students with the technical skills and, more importantly, the problem-solving mindset needed to address challenges and develop new innovations using data.
"The data science program is not just about applying specific machine learning or artificial intelligence algorithms," Parisi said. "In building this program, MSU put together a very comprehensive package that brings together computer science and mathematics skills with communication, leadership and ethics to complement an education in specific fields of study. There was no other program thinking about how to bring all of these things together."
Since launching in 2022, the program has drawn interest from prospective and current students alike as more fields find uses for data science. Josh King, a junior data science major from Atlanta, Georgia, enrolled in the program last fall, which led to research opportunities with faculty and the MSU basketball team. He said he plans to pursue a master's degree while at MSU and work in predictive analytics.
"Once you get into data science, you're going to start to see it everywhere," King said. "You start going around your whole life trying to turn real-world objects into data objects. Once you go down the rabbit hole, there is no coming back. It's ingrained in you to think in the data way."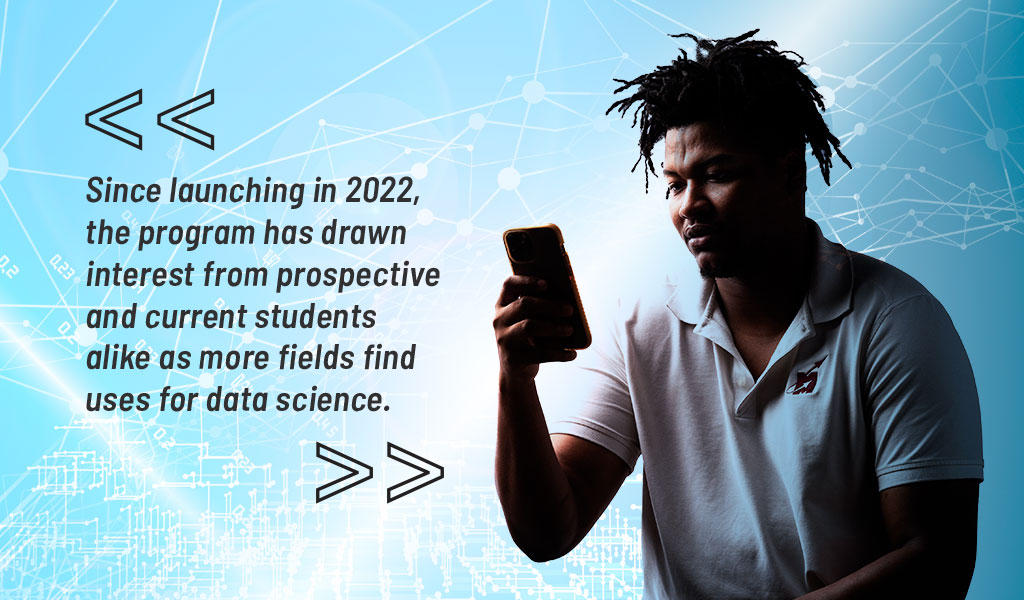 BUILDING ON A CULTURE OF DATA-DRIVEN RESEARCH
When MSU commissioned a task force on data science, one of the first objectives was, naturally, to collect data on existing data science capabilities within the university.
Through surveys, MSU identified approximately 350 experts on campus who are using data science to address key challenges in agriculture, engineering, social sciences, physics, chemistry, geosciences, business and just about every other academic department on campus.
With one of the country's highest-powered academic supercomputers located on campus, MSU has the computing power to run large-scale models and simulations that can turn massive amounts of data into something as big as global climate models or as small as the molecular solution to make metals stronger and lighter.
Because of the wide-ranging ways MSU researchers are using the latest in technology and data science, the university decided to create a data science program with links to every college, giving students ample opportunity for coursework and research in the specific areas that interest them.
"One of the most exciting things about this program is that it leverages the faculty we have across campus who are on the cutting edge of using data science and advanced tools to transform their disciplines," said David Shaw, MSU's Provost and executive vice president. "Data science has been vital to our success as a research institution, and we know it will only grow in importance to organizations here in Mississippi and around the world. I am excited that we are taking a leading role in our state and region in creating the next generation of data scientists."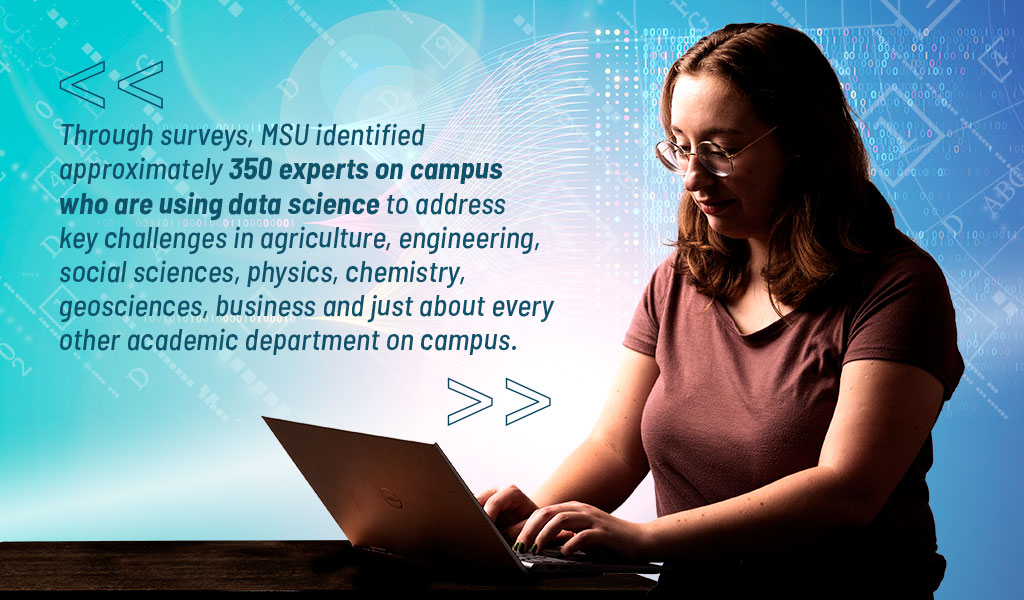 EMBRACING THE DIGITAL TRANSFORMATION
Tristan Trice, a sophomore mechanical engineering major from Charlotte, North Carolina, was looking for an elective to take and came across an introductory course on data science literacy. He said he quickly realized the impact data science could have on his career.
"If you're working in data science, odds are you are working on the cutting edge of technology because of the tools needed to collect, analyze and apply data," said Trice, who has developed an interest in natural language processing. "When you look at what OpenAI is doing with Chat GPT, it's fueled by data science. If you want to be where the innovation is, get to data science."
As associate director and assistant teaching professor in the data science program, Jonathan Barlow is responsible for teaching the introductory course that gives most students their first taste of data science.
With a background in computer science and theology, as well as more than 10 years of applied experience at MSU's National Strategic Planning and Analysis Research Center. As a member of Generation X, Barlow says he came of age working on websites and web-based applications, noting that when it comes to today's digital infrastructure he, "watched the building being erected." However, as members of Generation Z, most students were "born inside the building."
Barlow said that for many students, the way digital tools are built can be a bit of a mystery because they have always simply used them. But, he said, once they realize how much of what they use runs on data, they are quick to embrace the topic.
"It's almost like pulling back the curtain to see how the world is constructed," Barlow said. "All of the modern marvels of the internet are based on data. Even with something as commonplace as GPS, students are realizing that data underpins everything they're doing, and that allows them to intuitively grasp how important it is."
Because of the prevalence of data-driven technology in modern life, data science applications can have far-ranging impacts–from the algorithms that promote content and products online, to health care decisions or even credit approval. The data science program teaches responsible data usage and ethics, as well as the relevant laws and regulations that govern certain types of data. For King, ethical use of data requires a constant balancing act.
"You have to ask yourself, what kind of person would I be if I use data in a way that might hurt someone else? But also, what type of person would I be if I didn't use the data I have that could benefit everyone," King said. "You're constantly in conflict as a data scientist, because you feel obligated to use the data in ways that are going to benefit people, but sometimes it does not benefit every single person. Ethics is really challenging."
The drive toward digital innovation, accompanied by well-rounded training in areas like ethics and communication, is helping to prepare students with the "data mindset" that is highly coveted by employers, Parisi said.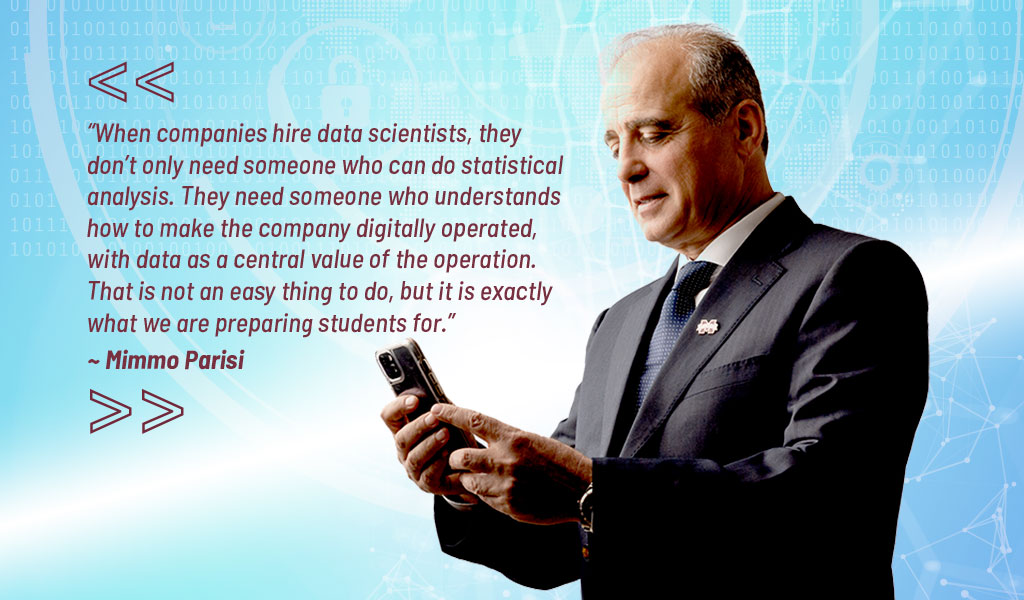 NO SHORTAGE OF CAREER OPTIONS
As different sectors of the economy, including agriculture and manufacturing, are transformed by data-driven practices, there are many career options for graduates of the data science program. Data scientists can support all aspects of the data life cycle, including data acquisition, storage, analysis, smart-system building, computing, networking, security and machine learning.
While Trice is planning to use his mechanical engineering degree to work in the automotive industry, he said he sees a wide variety of careers available for people with data science skillsets.
"If you search data science jobs on LinkedIn, you will see companies like John Deere hiring data scientists in addition to tech companies like Google and Microsoft," Trice said. "There are automotive companies looking for data scientists. You can work for most companies because they are all wanting the benefits of data science."
With enrollment in the program expected to grow rapidly in year two and beyond, the forthcoming graduates will be ready to transform Mississippi by being a force for innovation in their organizations, Parisi said, whether that is in manufacturing, business, government or any number of fields.
"When companies hire data scientists, they don't only need someone who can do statistical analysis," Parisi said. "They need someone who understands how to make the company digitally operated, with data as a central value of the operation. That is not an easy thing to do, but it is exactly what we are preparing students for."
By James Carskadon, Photos by Megan Bean