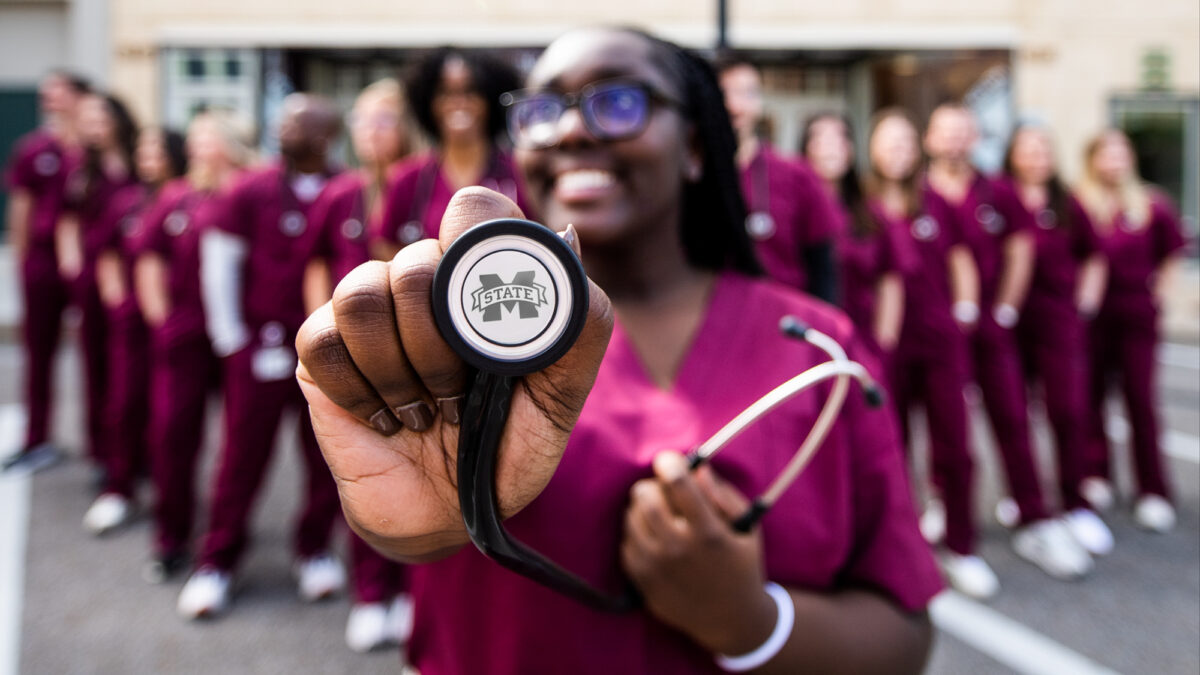 MSU-Meridian positioned to become leader in health care education
Mississippi State-Meridian unveiled new programs this year that will transform it into a regional leader in health care education, create a pipeline of medical professionals for the Magnolia State and allow Bulldogs to truly take care of what matters: each other.
In February, the State College Board approved Phase 1 of the accelerated master's graduate entry nursing program, the first-of-its-kind, entry-level licensure program in the state. Offering a direct route into nursing to those holding bachelor's degrees in non-medical science fields, this 12-month, fast-track program is expected to graduate up to 60 nurses each year.
One month later, MSU-Meridian's first doctoral program—a 91-hour program for students wanting to become practicing psychologists—was announced. The doctoral degree in psychology will provide students with the skills they need to assist clientele with a diverse range of mental health needs.
A new Bachelor of Science in health care administration was also announced in March. This track will prepare students for careers in the business side of the industry, including finance, law and regulatory demands.
These new pathways—along with the physician assistant master's program, which admitted its first cohort in 2021—will redefine MSU-Meridian's focus and lay a new path for its future.
"For 50 years, we've struggled to form a true identity—to give MSU-Meridian a true purpose," said Terry Dale Cruse, associate vice president and head of campus. "The big 'ah-ha' moment came from consensus and alignment across the entire university—the belief that MSU can do something to address health disparity, access to quality health care and improve the livelihoods of Mississippians by leveraging MSU-Meridian as a hub for preparing future health care professionals.
"It's the most exciting thing I've been part of to date," he added.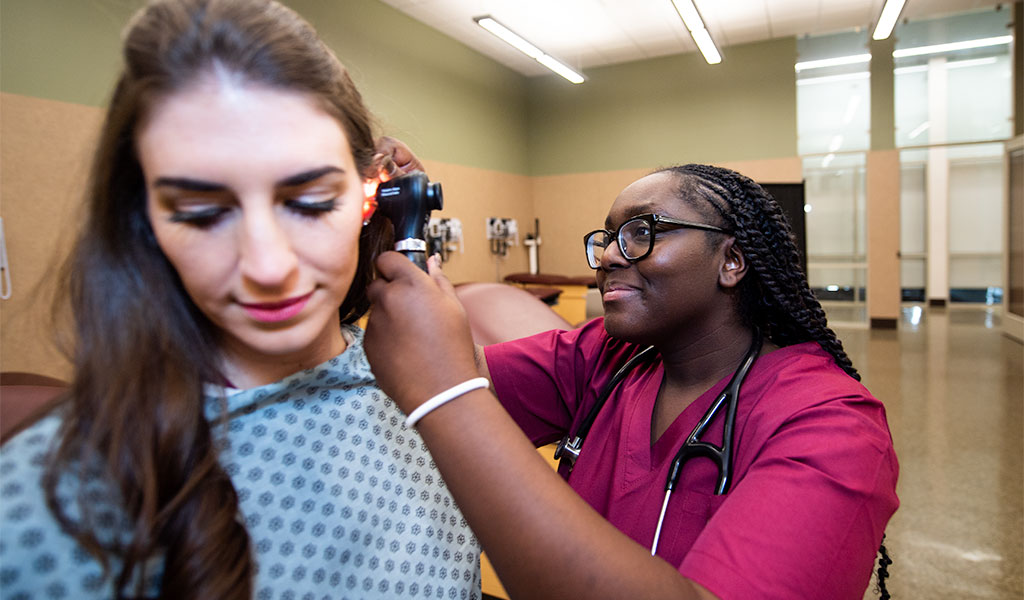 Right Place, Right Time, Right Partners
The development of MSU-Meridian's new health care-focused curricula came about when the university recognized increasing needs in the region and state and identified the right partners—the major medical systems and local philanthropic organizations in its own backyard—to help develop holistic, far-reaching solutions that will serve Mississippians for years to come.
Over the decades, Meridian has become a hub for medical services, attracting patients from across east Mississippi and west Alabama. It is the home to two large health care organizations—Anderson Regional Heath System and Ochsner Rush Health—and important mental and behavioral health providers, including the Mississippi Department of Mental Health's East Mississippi State Hospital and Alliance Health Center, an acute-care psychiatric and substance abuse treatment hospital.
Combined, these four entities directly employ more than 5,000 people. Only Meridian's various military installations can challenge area health care facilities in terms of employment numbers. Health care in general, according to a past East Mississippi Business Development Corporation study, is a billion-dollar industry in the Meridian area.
"The health care industry is a driving force in our regional economy," said EMBDC President and CEO Bill Hannah. "That said, we're all very aware of health care's ever-changing and challenging environment within which to operate. Fortunately, our area benefits from the strong partnerships that exist between health care providers and our existing industries and businesses, significant foundations, local governments and certainly our educational institutions."
Following the implementation of the MSU-Meridian's physician assistant program, Cruse explained, excitement grew about how MSU could further support the state's medical infrastructure. With the pandemic's impact on health care staffing needs as a backdrop, university leaders and community partners went into action to identify new educational opportunities.
"You couldn't have a conversation with hospital CEOs without every other sentence coming back to nursing," he said. "We also acknowledged that the state has burgeoning mental-health needs."
Leaders of the Riley Foundation, the university's longtime philanthropic partner in Meridian, approached administrators with a commitment to support expansion of health care programs. That financial backing supported hiring Harold Jones, who spent 17 years as dean of the University of Alabama at Birmingham's School of Health Professions, to analyze the area's health care industry and identify new program opportunities for the campus. He is now MSU-Meridian's interim associate vice provost for health sciences.
MSU-Meridian also brought in Doreen Harper, dean emerita of the UAB School of Nursing, to assist with the initial phase of nursing approval. Most recently, Mary W. Stewart, the former director of the nursing science doctoral program at the University of Mississippi Medical Center's School of Nursing, was hired as the campus' first dean of nursing, and the university elevated 20-year MSU veteran Shauncey Hill to director of projects and strategic planning, a position that will support the development of health care programs.
Also on board are numerous local caretaker organizations, whose investments continue to transform the city. The Paul and Sherry Broadhead, Phil Hardin and Riley foundations have given more than $10 million just toward establishing the nursing master's and psychology doctoral programs, and more support is expected in the future.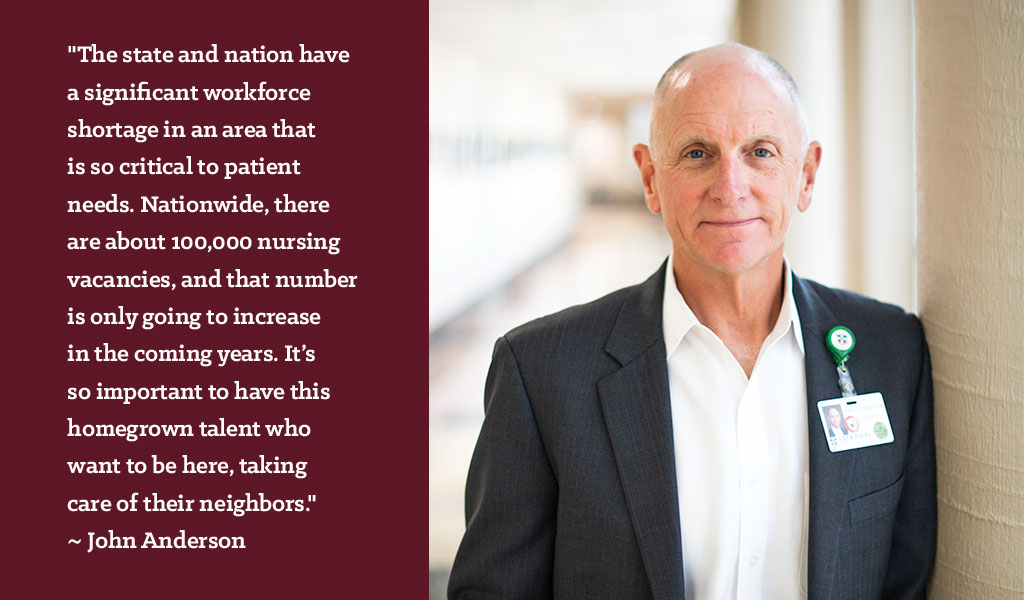 Both John G. Anderson, the president and CEO of Anderson Regional Health System, and Larkin Kennedy, Ochsner Rush Health's CEO, say the benefits of these investments in health care will have far-reaching, positive effects on not only their own organizations and Meridian but the state as a whole.
"MSU-Meridian becoming a hub of health sciences is probably beyond measure with what that will mean to this community and to organizations like ours in the future because we depend so much on nursing," Anderson said. "The state and nation have a significant workforce shortage in an area that is so critical to patient needs. Nationwide, there are about 100,000 nursing vacancies, and that number is only going to increase in the coming years. It's so important to have this homegrown talent who want to be here, taking care of their neighbors."
Both organizations have partnered with MSU-Meridian in a variety of ways related to its current and future health care curricula, from medical staff and administrators serving on faculty search committees to hospital facilities opening their doors for students' clinical rotations.
"Our partnership with Mississippi State is tremendous. Obviously, our interest is to develop a talented pool of local health care workers but we also see the value in training those who may not end up working here," said Kennedy, who earned his undergraduate degree from MSU. "Together, we will continue to explore opportunities that raise the bar in the programs that are provided in Meridian, the quality of care that these programs end up affecting and how we partner to grow education and health care at the same time in the future.
"Ochsner and MSU are taking care of people that we live and work with every day. We're meeting that mentality of what being a Mississippian is about—we take care of each other," he continued. "This investment that Mississippi State is making in health care and Meridian has tremendous potential to really shift the future in terms of economic, workforce and quality-of-life issues."
Cruse praised the university—from MSU President Mark E. Keenum to the facility managers tasked with figuring out how to host new classes, labs and simulation spaces—for its efforts to move from concept to IHL-approval quickly.
"In less than a year, the university did what usually takes 18 to 24 months," he said. "That's lightning speed for higher education, and it takes an incredible team to pull off that kind of feat," he said.
MSU-Meridian will continue adding to its health care-related offerings in the short- and long-term, with expanded substance abuse- and clinical mental health-oriented programming tied to its Master of Science in counseling; a Master of Science in psychometry and an educational specialist degree in school psychology; and physical and occupational therapy offerings, among others. There are also plans to develop a community-based behavioral and mental-health clinic to support hands-on educational experiences for students.
"Everything happens when it's supposed to," Cruse said. "I'm very excited to see what this looks like five to 10 years from now.
"I think we're already becoming a greater influence in health care in Mississippi," he continued. "In the end, I want us to have a thriving health sciences campus that is doing its share to ensure that Mississippi no longer has the worst patient-to-provider ratios in the nation."
Bridging the Gap
Many students experience a defining moment where hours of classroom studies, theoretical discussions and skills practice come to life in a real-world setting. For Lauren Ackerman, that moment occurred when she helped close an incision after a surgeon removed a patient's gallbladder.
"It was very surreal," she said. "It's so rewarding when you get to this moment and you're like, 'Oh, this is what I've been learning to do, and I'm finally applying everything.'"
Ackerman, a second-year student in the physician assistant program, is gaining hands-on experience through clinical rotations at hospitals and clinics throughout the state, all under the guidance of veteran clinical preceptors. Her journey to MSU-Meridian and a health care-related profession began in Franklinton, Louisiana, where she grew up hearing stories from her mother, a labor-and-delivery nurse.
Those stories sparked her interest in helping others, but Ackerman said she wanted to play a more active part in decision-making for patients. After graduating from William Carey University in 2020 with an undergraduate degree in biology, she took a break from higher education and worked as a patient access representative in Louisiana. There, she worked alongside a physician assistant and learned more about the role.
Physician assistants are licensed health care professionals who practice medicine in various specialties and settings. They diagnose and treat patients; can order and interpret laboratory and diagnostic tests; write prescriptions; and perform clinical skills and physical exams all while providing patient-centered care. The breadth of their training allows them to serve as front-line medical providers and enter service faster than those choosing the traditional medical-school pathway.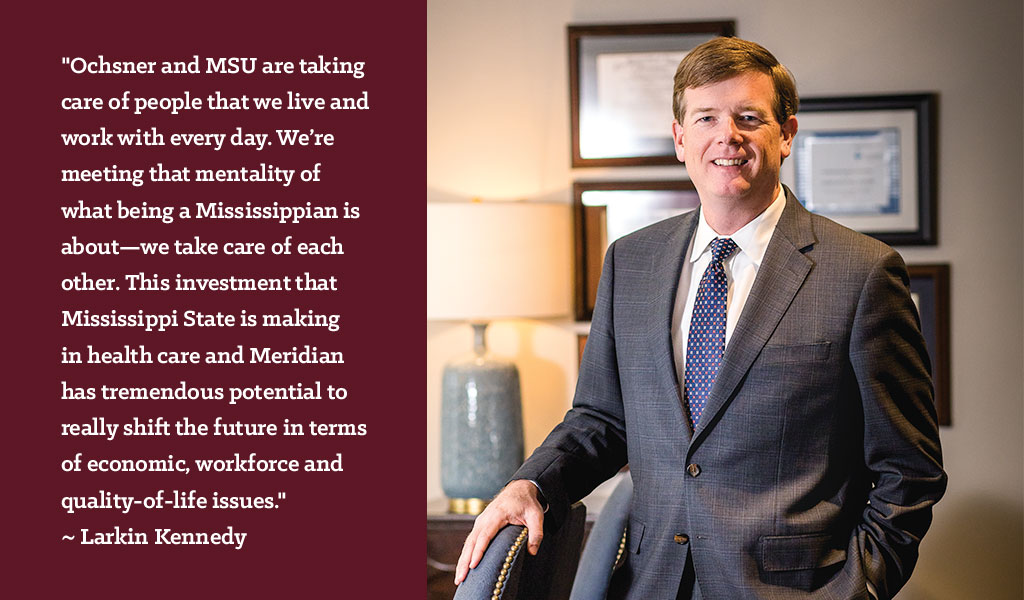 "Growing up in a rural community, I realized there is a lack of health care providers and access to quality medical care. What I love about becoming a physician assistant is I will be able to bridge the gap and provide care where it's needed the most," Ackerman said. "I want to help educate, diagnose and treat patients with evidence-based medicine, compassion and equality—that's what's really needed right now.
"What drew me to MSU-Meridian was the school's dedication to train professionals who will increase access to health care in Mississippi. The small class sizes allow students to actively engage and ask questions. The MSU physician assistant program really feels like a family," she continued. "I see that our professors find pride in being able to share the first-hand knowledge they have. They challenge us to be better so we can make an impact wherever we practice."
Like Ackerman, first-year student Matthew Kittrell's mother also worked for decades as a nurse, and his past experiences working alongside physician assistants helped solidify his interest in MSU-Meridian's program.
His exposure to physician assistants, however, came many miles away from his home state.
Kittrell joined the Mississippi Army National Guard and served as a combat medic, following in the footsteps of his grandfather, who served in a similar role during the Vietnam War. Kittrell was deployed to the Middle East in 2018 and 2019, where he worked with medical personnel in Kuwait and Iraq. After his service ended, he enrolled at MSU and graduated with a bachelor's degree in biology.
"That's what really drove me further into the health care space," he said. "A lot of what they teach you in the military is hands-on experience—they teach you the how, not the why. All that matters is that you can do what needs to be done in the moment. It's interesting now, finally seeing the why that connects to all the things I learned years ago."
Kittrell, too, said he plans to focus his career on bringing quality care to underserved communities and credited MSU-Meridian instructors for supporting him as he works toward his dream.
"I'm just really excited to get the opportunity—just to get in there and make a difference. You can't get into this line of work unless helping people is at the core of what you want to do," he said. "From my undergrad experience to now, MSU and MSU-Meridian have done everything possible to help me succeed. Our instructors will move mountains to help you get where you need to be. That's what's so great about this program: If you have the drive to do it, they'll do whatever it takes to help you."
By Carl Smith, Photos by Grace Cockrell
---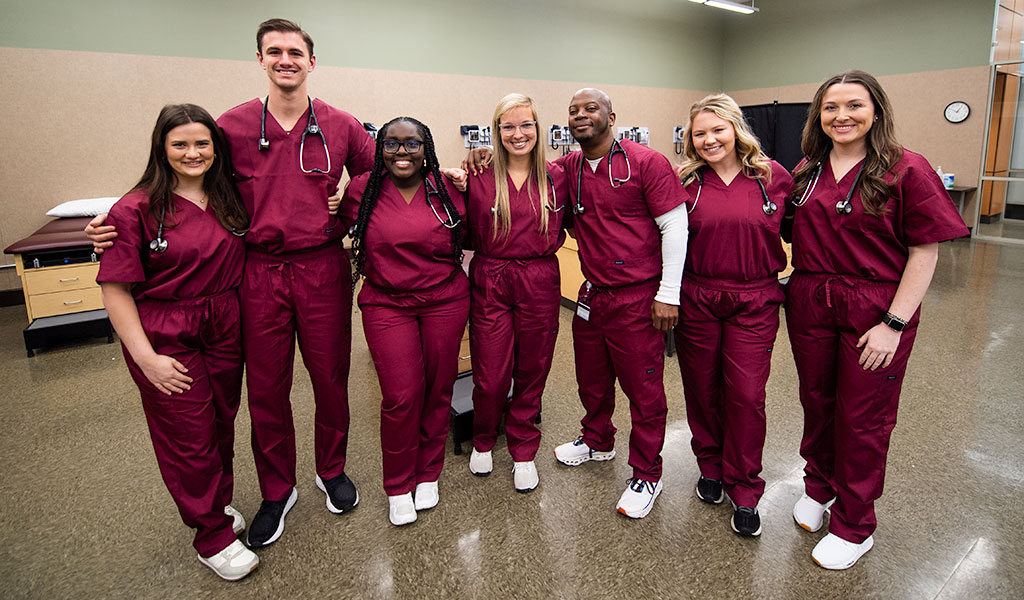 Partnerships connect Bulldogs to dual-degree nursing options
Bulldogs wanting to graduate with both an undergraduate degree in nursing and a degree from Mississippi State have options thanks to two unique partnerships.
Students can earn a Bachelor of Science in interdisciplinary studies from MSU and a Bachelor of Science in nursing from either the Mississippi University for Women or the University of Mississippi Center's School of Nursing via dual-degree agreements between the universities.
The process is simple: Students start their education at MSU, where they take general education classes and others that align with their future transfer institution's degree requirements. Then, they apply to and transfer into their respective nursing programs if they are accepted. Their nursing school-specific credits align with MSU's interdisciplinary studies degree through the College of Arts and Sciences, and can transfer back and count toward its completion without further study.
The MSU-UMMC dual-degree program was launched in 2022, while the agreement with MUW has been in place since the early 2000s. MSU and UMMC also have partnered since 2018 on an early entry program for MSU pre-nursing freshmen. Students in MSU's Freshman Early Entry program earn approximately 65 credit hours at MSU before transferring into the UMMC School of Nursing.
Sara Morgan, an academic coordinator with MSU's Dr. A. Randle and Marilyn W. White Health Professions Resource Center, said the university is working to expand its dual-degree nursing offerings by adding an agreement with William Carey University in the future.
"Quite simply, many future nurses want to also be graduates of Mississippi State," she said. "These agreements help them with both paths and provide them the knowledge and experience they need for successful careers in nursing."
For more information about MSU's pre-nursing major and Bachelor of Science in interdisciplinary studies, visit www.prehealth.msstate.edu/paths/nursing and www.cas.msstate.edu/academics/bsis.