MSU alumni reunite as engineers serving home community with Mississippi Power
For many college roommates, the relationship after graduation relies on social media updates and reuniting for game days at their alma mater. But, for four Mississippi State grads, those reunions occur most often during staff meetings.
Edward Carranza, Guy Evans, Brandon Gill and Austin Waldrup all ventured to MSU from the state's Gulf Coast. All engineering majors, they roomed at 21 Apartments and The Pointe adjacent to campus. Now, they are back in south Mississippi as engineers with Mississippi Power, working to keep the lights on in the community they call home.
"Mississippi Power is huge in the community," said Gill, a 2019 electrical engineering graduate and reliability engineer in Mississippi Power's Power Delivery unit. "We saw those bucket trucks when we were kids and the community involvement. When it came to our engineering paths, it all aligned to point us back to Mississippi Power."
Carranza, Evans and Gill all met while taking pre-engineering classes at Mississippi Gulf Coast Community College. Waldrup took classes at Jones College. Upon transferring to MSU, the group decided to live together and soon developed a social life that revolved around Bulldog sports and weekly poker nights.
They also realized that having a support network for late nights studying was just as important as a network for late nights with friends.
"From a mental health perspective, it's huge having people to rely on who will support you and provide accountability," said Carranza, a grid investment engineer and 2018 MSU mechanical engineering graduate. "Someone who can say 'I know you're ready to quit, but there are better days ahead.' All of that is important. And as much as you are on the grindstone in engineering school, you really need to enjoy your time away and enjoy those breaks."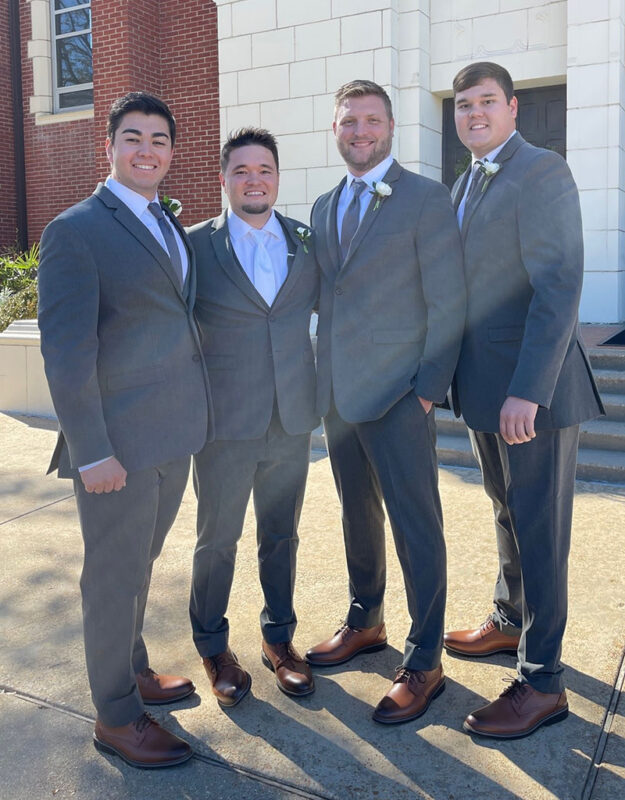 Camaraderie and social support were not the only non-classroom benefit from their time at MSU. Some of their most beneficial learning opportunities took place off campus. All four roommates participated in co-op programs through the MSU Career Center, giving them paid experience in a company setting. With Mississippi Power heavily recruiting co-op students from MSU, three of the roommates ended up working for the company prior to graduation. The graduates credited advisers in the Department of Electrical and Computer Engineering with helping them tailor resumes and coursework to align with their interests, which included working for Mississippi Power.
Once they got to Mississippi Power, the friends felt at home surrounded by the cowbell and maroon and white themed desk decorations found in many company offices, as the utility regularly recruits MSU students for co-op placements and full-time jobs.
While the time getting first-hand work experience was valuable, the lessons learned in the classroom also prepared them for the careers they would take on. Among the most important attributes they learned was the ability to solve problems and navigate complex situations, a skill they have put to use when dealing with the complexity of power systems and damage they may take on from storms.
"It's not so much the formulas and all the equations, it's the mindset they instill in engineering classes," said Evans, a distribution engineer and 2019 mechanical engineering graduate. "It gives you the confidence and skills to know that no matter what the situation is, you're going to be able to figure it out."
South Mississippi benefits from the friends' problem solving skills as they are now partners in the response to hurricanes, tornadoes and other events that may disrupt power. Getting the lights back on for their communities is something the group takes pride in.
"Whether it is a tornado or a hurricane, that's when our company shines brightest," said Waldrup, a grid investment engineer and 2019 electrical engineering graduate. "We get a lot of satisfaction out of getting the lights on quickly and safely. If someone has suffered damage during a storm, being able to turn the lights back on is one of the first signs that things will be better and eventually get back to normal. It's pretty cool to work all day and then see the lights come back on."
While the friends might not spend as many Saturdays in the Junction as they used to, or stay up late playing poker, they say they still appreciate the support that helped carry them through college, the beginning of their careers and the next steps that are still to come.
"My career would not be what it is today had we not all moved in together and built that support system," Gill said. "We all like to say we don't succumb to peer pressure, but who you hang out with has a big impact. We have been fortunate to have the right crowd around us both at MSU and at Mississippi Power."
By James Carskadon, Photo submitted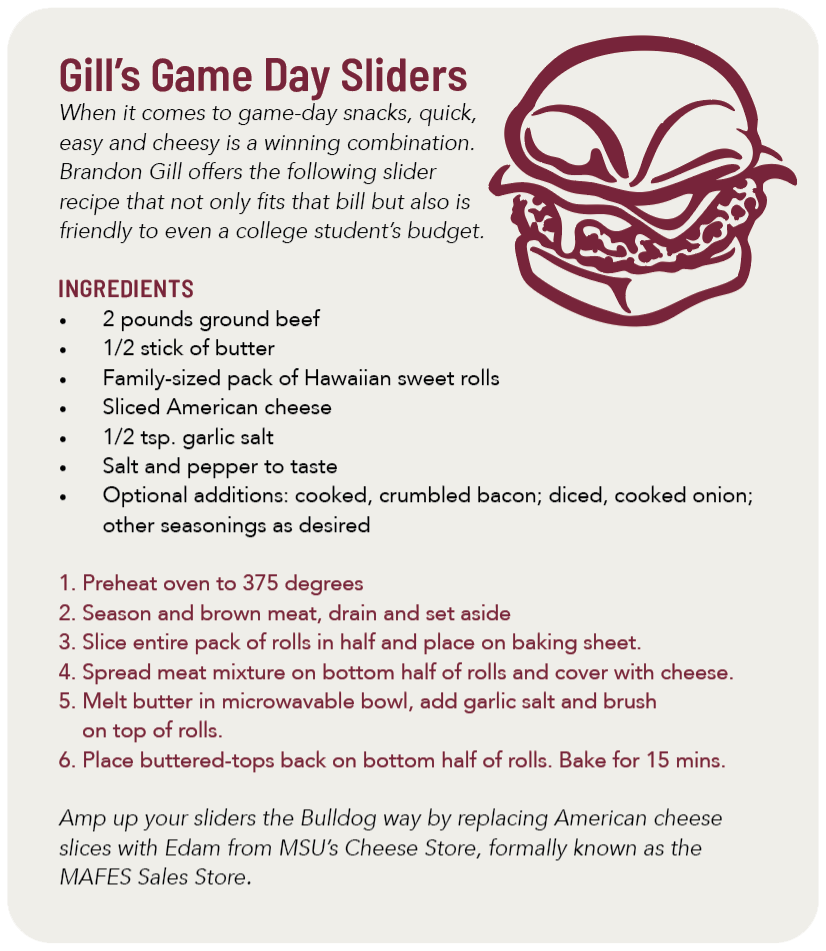 MSU connects students and employers for hands-on experience
The MSU Career Center connects Bulldogs with the opportunity to gain real-world experience in their fields of study before they don a cap and gown.
The Career Center facilitates co-op and internship programs that have proven to be a benefit not only for students but also the employers looking to recruit new employees. 
In 2021-22, nearly 850 students participated in a co-op, internship or both. The program boasts 239 active employers with students working in 34 states.
Southern Company, the parent company of Mississippi Power, has consistently ranked among the top 20 co-op employers for MSU students.
There are several ways for employers to become involved with MSU's co-op and internship programs, including participating in the Career Expo and Co-op Interviews Days; holding employer information sessions or becoming a Career Center partner. The Career Center also offers space for employers to conduct on-campus interviews.
For more information, visit www.career.msstate.edu or contact Career Center Assistant Director Megan Artz, Career Center assistant director, at [email protected].