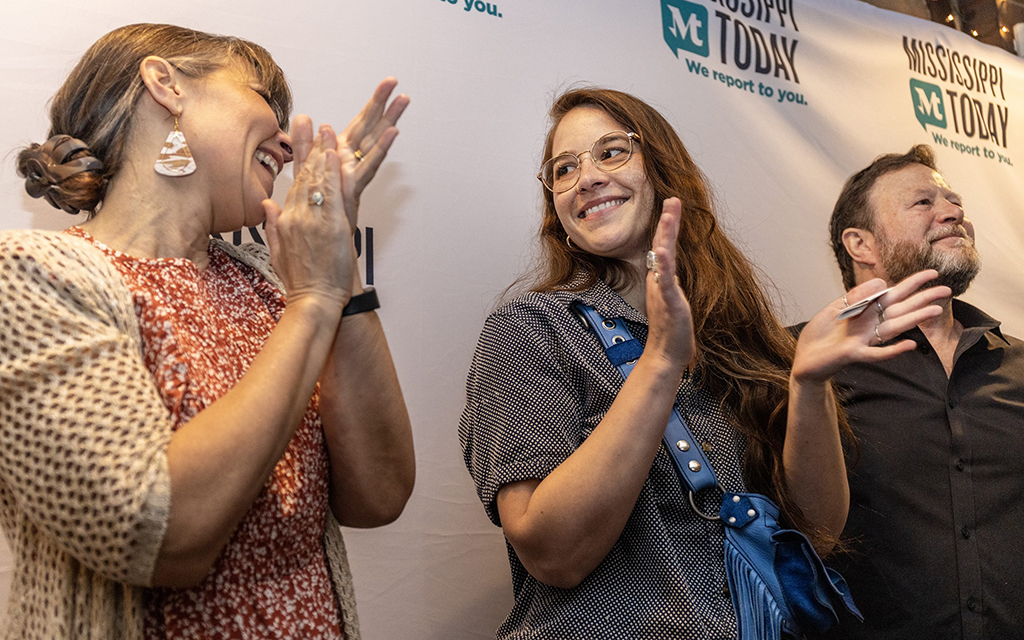 Mississippi State alumna Anna Wolfe can now find her name among the list of America's most storied journalists having brought home one of the industry's top prizes.
A native of Tacoma, Washington, the 2014 graduate won a 2023 Pulitzer Prize in local reporting for her Mississippi Today series, "The Backchannel" that investigated the alleged misuse of federal welfare dollars meant to help Mississippi's poorest residents. The seven-article series was the culmination of five years of investigative reporting.
In a podcast recorded by Mississippi Today less than 24 hours after the Pulitzer announcement, Wolfe said she had "not totally processed" the win, but that it felt great and a "long time coming" given how many years she spent investigating the story before the series was published last year. She also noted the dissonance around winning an award based on something that negatively affected so many.
"It's very bittersweet," she said, "to be getting recognized for something that required something really bad to happen, and I want to center those (who were affected) in that moment, just to remind people that this isn't just, you know, fun stories that we do and pick up awards for. They're affecting real people.
"Ultimately, the goal is for the stories to affect change in the state," she added, "and I want to keep reminding people that that work isn't done yet."
No stranger to professional honors, Wolfe's career accolades include: the 2021 Goldsmith Prize for Investigative Reporting, the 2021 Collier Prize for State Government Accountability, the 2021 John Jay/Harry Frank Guggenheim Excellence in Criminal Justice Reporting Award, the 2020 Al Neuharth Innovation in Investigative Journalism Award and the February 2020 Sidney Award for reporting on Mississippi's debtors' prisons. She also received the National Press Foundation's 2020 Poverty Inequality Award, first place in the regional Green Eyeshade Awards in 2021 for Public Service in Online Journalism and 2020 for Business Reporting, and the local Bill Minor Prize for Investigative Journalism in 2019 and 2018 for reporting on unfair medical billing practices and hunger in the Mississippi Delta.
It's an impressive number of accolades in what is still a very young career. That's something Terry Likes, head of Mississippi State's Department of Communication, said he hopes can inspire budding Bulldog reporters.
Wolfe returned to her alma mater in 2021 as the keynote speaker for MSU's annual Story State conference and serves on the print and digital journalism advisory board within the department.
"Through her reporting on poverty and justice in the Magnolia State, Anna has an ability to explain difficult stories by giving a voice to the voiceless and holding the powerful accountable," Likes said. "It is important for students to have mentors and role models in the profession. Faculty point to Anna with pride as an example of what current students can strive to achieve."
Despite her roots in the Pacific Northwest, Wolfe has spent her entire journalism career in the Magnolia State. Prior to joining Mississippi Today in late 2018, Wolfe worked for The Clarion Ledger, the Center for Public Integrity and the Jackson Free Press. But she got her start as a staff reporter for Mississippi State's student newspaper, The Reflector.
Frances McDavid, retired MSU journalism faculty and former longtime adviser for The Reflector, said it's no shock Wolfe has made such an early impact as an investigative journalist. She said the talent and drive for discovery has been there since Wolfe's days as news editor for the student newspaper.
"Anna has sharpened the abilities that became apparent in her time as a journalism student at Mississippi State, and her boundless curiosity has led her to important stories that require a deep commitment to revealing truths," McDavid said. "Her approachable but no-nonsense demeanor allows her to build relationships with sources and subjects of stories while holding them accountable for their words and actions. Her empathy for the underdog, coupled with tenacity and perseverance, drives her to meticulously develop sources and gather materials required as the foundation for stories. Her storytelling forms and attention to detail and language allow a general audience to easily understand the complex events she describes.
"She has become an essential investigative journalist in Mississippi as the news industry has shrunk and shifted focus through uncertain times," McDavid continued. "We are fortunate that she chose to build her career here and serve our state."
Undoubtedly, Wolfe's Pulitzer win—only the seventh for a Mississippi news outlet since 1917—will open the door for her to take her career in any direction she wants. Still, Wolfe says she is happy with the niche she has created for herself not as an investigative, health or governmental reporter, but rather as a journalist covering poverty and the variety of ways it shapes people's lives and affects the state.
"I've never really chosen to stay in Mississippi. I've just chosen to do the next story," she told Mississippi Today. "Picking a lane is crucial and was helpful for me in developing a story I could call my own.
"I like writing the truth," she continued. "I'm not sure what else I would be able to do for a living if not for this."
From Press reports with additional reporting by Susan Lassetter, Photo submitted.