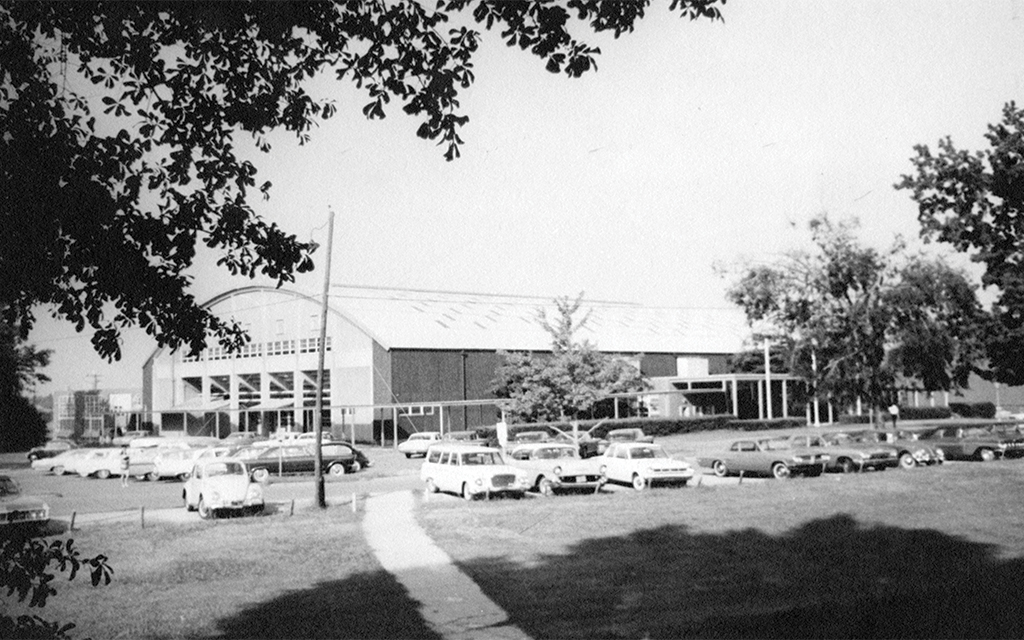 We had some very good basketball teams that played in McCarthy Gym, including Bailey Howell. Babe McCarthy was a fantastic coach. You could hold the basketball as long as you wanted to. Coach would freeze the ball against Kentucky and the score might have been 21 to 20 as we won.
We had many intramural basketball teams that played in that gym. My team was called Sharp's Sharpshooters.
There was another gym below this Babe McCarthy Gym. All seats had been removed. All that was in the old gym was the actual playing court where intramural basketball teams practiced. You could go there any hour of the day or night. A person could turn on the lights at midnight and practice.
You might want to know that Coach Babe McCarthy taught classes in basketball. I enjoyed the class. However, one question on the test was "Which end of the basketball court is larger?" I got the answer right but some did not. It is a trick question. Back court is larger than front court because back court includes the center line.
~ Douglas Sharp, (B.S. physical education, '59; M.Ed. school administration, '64)
---
I have fond memories of McCarthy Gym, but none greater than 1962. I was a cheerleader and the greatest sports event I have ever experienced occurred when Adolph Rupp came to town with his highly touted Wildcats. The gym filled as soon as the doors opened and the crowd was noisy and rowdy. I wouldn't call the event a standing-room-only crowd, it was much more. The gym had steel girders that ran from one side to the other and there were students who climbed up to either stand or sit to watch the game.
It was rumored that someone placed a dead skunk in a bag under Coach Rupp's chair, but I can't verify that story. He was a very dignified coach with his signature brown suit and white hair. He was a great coach and it was always a happening when they came to town. We had a wonderful team and won that game 56-52. Coach McCarthy was a great coach and, as we all know, this team represented our school proudly in the game that changed everything when we faced off against Loyola.
~ A. Cinclair May, (B.A. political science, '63)
---
I watched many basketball games in McCarthy Gymnasium. By far my fondest memory was getting to watch LSU's "Pistol Pete" Maravich play. He was a rock star in the basketball world at the time and I stood in line a long time to get in the doors when they opened. It was well worth the wait! Pete was a mop-headed 6 ft. 5 in. guard who put on a show every time he played and was incredibly talented and fun to watch. He would shoot anywhere on the court, and do no-look and half-court, behind-the-back passes. He was the first person I remember doing behind-the-back dribbles. I am sure the gym exceeded the Fire Marshall's limit since it was far beyond "standing room only."
Pete played 10 years in the NBA and died suddenly playing a pick-up game at the age of 40. I have always been grateful I got to watch the Pete Maravich show live in McCarthy Gymnasium.
~Bruce Barlow, (B.S. mathematics,'69)
---
Until 1950, MSU basketball was played in the old "Gym in a Box." It was a pitiful facility and no places for a successful basketball program. However, the new gym, later named McCarthy Gymnasium, quickly became home to some powerhouse MSU teams.
As a high school senior in Starkville, it was a treat to watch Bailey Howell and the 1958-59 team befuddle opponents, posting a 24-1 record to win the SEC.
In 1959, college programs had a freshman team and a separate schedule. Our 1959 freshman team included recruited players Joe Dan Gold and Bobby Shows, plus two unknowns Leland Mitchell and W.D. "Red" Stroud. To say this was a special class is an understatement. As freshmen, they won all their games and set the stage for their sophomore season. Leland seemed instantly competitive at any game, as I remember from bridge games at the "Grill" and ping pong in a small room at the YMCA.
This team won the SEC championship every year they played, 1960-63, thrilling us students every week, and beating Adolph Rupp's Kentucky Wildcats out of league championships. During one of the Kentucky games at home, someone put a "dead" skunk under Coach Rupp's bench seat, which received some notoriety when he talked to the press the next day. He also complained about the noise level produced by 5,000 students with cowbells. I would have to agree on that point. If you think they're loud in the football stadium, just imagine what they sound like in the small gym. There were few highlights for Kentucky that night, as they lost 56-52 to State, cowbells and McCarthy's famous "stall" offense.
As a Starkville youth and now past 80, I have been a zealous Mississippi State fan all my life. The basketball teams coached by Richard Williams and Rick Stansbury have given us alumni much pleasure and have maintained a prominent position for our school. Taking nothing away from those players and coaches, Babe McCarthy and his teams gave us the most amazing record so far. Both the 1958 and 1962 teams posted 24-1 records. Babe was named SEC Coach of the Year three times and won the SEC four of five years between 1958 and 1963—the most successful period in MSU basketball history.
In 1963, some of us approached Coach McCarthy with the idea of an SEC Championship Dance at the close of the season. He was on board with the idea, especially since it could help with his recruiting efforts. To promote the event, we suggested a dance contest during halftime at one of the games. In those days, "The Twist" by Chubby Checker, was very popular. So, McCarthy agreed to advertise the upcoming dance with a "Twist Contest" between eight or so volunteer couples at halftime late in the season. The dance was a big success and headlined by saxophonist Bill Justis and his band, famous for their hit "Raunchy."
The 1962-63 team made history in another way, as State defied the governor and slipped out of town to play Loyola of Chicago, a team with three Black players, in the NCAA tournament. History has recorded it as "The Game of Change" — the title of a documentary video produced 45 years later. It is also the subject of the book by Kyle Veazey, "Champions for Change," published in 2012.
All in all, the "New Gym" housed some great and exciting times for the fortunate students of that era!
Donald "Don" Dodson, (B.S. dairy production, '63; MBA, '68)
---
I remember this parking lot well. I was a grade-schooler in the 1960s. Our father, Dr. David Cornell, taught chemical engineering at Mississippi State. Our mother would take my brothers and me to the swimming pool frequently. The pool is just to the south (left) of the "old gym." We would hop from yellow parking stripe to parking stripe because the pavement was so hot!
~ William Cornell, (B.S. general science,'83)
---
As a campus brat and 1961 graduate, I was pleased to be present with my wife and two sons when President George H.W. Bush spoke at their graduation. I only recently learned from an old vet friend, fellow MSU graduate and Air Force ROTC cadet, Maxey Phillips, class of 1962, that he was in the low level jet fighter flyby that emphasized the national anthem and shocked the crowd that day.
~ Roger Clapp, '61
Related posts