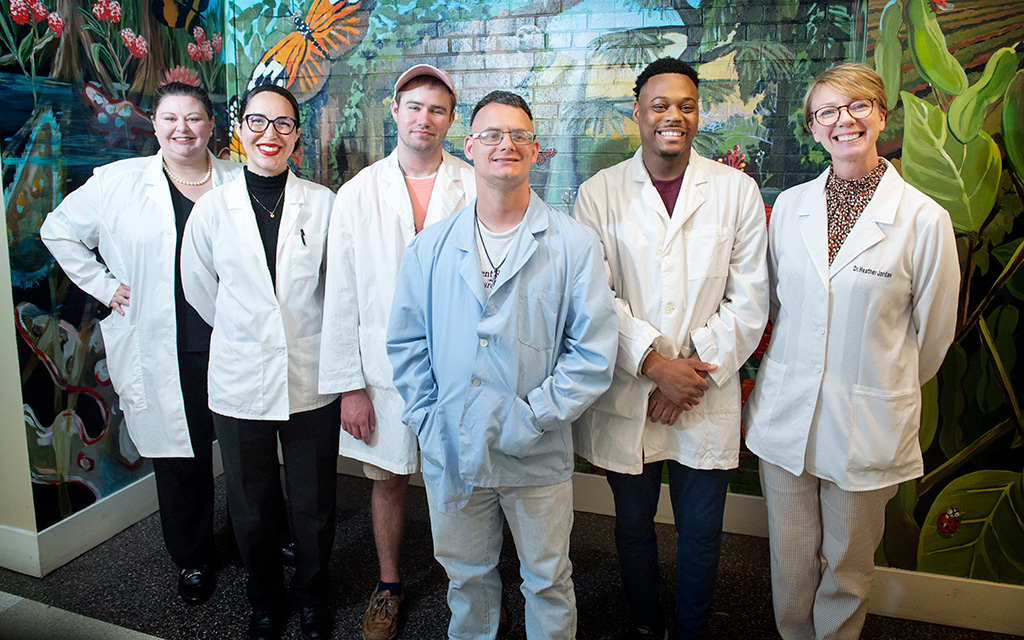 NSF grant provides MSU ACCESS students with hands-on learning, life-changing opportunities
Research has the power to change lives. Take for example, Cedric Gainwell Jr., Tanner Laird and Charles "Garrett" Lofton who conducted hands-on laboratory experiments at Mississippi State University.
Gainwell became a first-time flyer, as he and the others traveled to conferences to present their scientific findings. Laird is now a more confident public speaker after gaining experience conveying their results to large crowds. And Lofton said he enjoys knowing their work can be a catalyst at other universities, helping erase stereotypes about who can become a scientist.
Gainwell, Laird and Lofton are members of MSU's ACCESS program, the Magnolia State's only four-year, residential, postsecondary program allowing students with intellectual or developmental disabilities to have a full, inclusive college experience. Thanks to a National Science Foundation Research Experience and Mentorship grant, the trio worked under the direction of Heather Jordan, an associate professor of biological sciences, in a multi-university partnership and made trips to Washington, D.C., and Texas to discuss their work and network with peer scientists.
"I looked at other universities that have similar programs to MSU's ACCESS, but they don't have the collaborative research opportunities we have here," Lofton, a May graduate who studied beef production and management, said. "I feel like in a way, we're kind of breaking down the walls at those other universities. Hopefully when they get to see our work, they'll see that all students are capable of research."
In the Lab
Lofton takes pride in his lab work, but he tries not to discuss it with others while they're eating.
He and his peers are working to develop more potent, sustainable fertilizer sources by feeding insects specific foods and studying how effective their waste and other biproducts are in growing plants. Simply put: They are figuring out what to feed bugs so they can better feed crops.
"When people ask, I tell them I work with bug manure," Lofton said.
In the lab, the students selected specific organic materials for black soldier flies to convert into waste. They then used the biproducts—also known as frass—to enrich soil-growing crops. Gainwell, Laird and Lofton constantly monitored numerous control and experimental groups, noting and comparing different data points from soil water levels to crop height, and developed presentations based on their hypotheses and results.
"I'm a skeptical guy. I didn't know if I was going to enjoy lab work because I hadn't done it before," Gainwell, a junior studying animal and dairy science, said. "Once I started to go through the process—to see the steps of how we do the research and how it all comes together—I really started to enjoy it."
Their findings were shared with peer researchers at Texas A&M University and Indiana University-Purdue University Indianapolis. With MSU, the universities comprise the Center for Environmental Sustainability Through Insect Farming, which bridges industry and academia to create new opportunities for green jobs and products. These connections provided the students with opportunities to see their peers in action and meet high-level industry and government representatives.
Besides learning the ins and outs of experiments and data collection, they also learned numerous soft and secondary skills simply by participating in exercises many students take for granted: learning how to work in a lab; teamwork and communication skills; hypotheses development; and how to effectively communicate data.
"Before this, you would have never caught me talking in front of a big crowd of people," Laird, a junior studying horticulture, said. "Practicing these presentations, going to the conferences and presenting our work really helped me be more open toward people."
Jordan praised the ACCESS students for their work and also highlighted two graduate students—Jordan Smink, a doctoral student in biological sciences, and Charlotte Sarver, who is pursuing a master's degree in biological sciences—who helped facilitate in-lab learning through the year. All three instructors said having Gainwell, Laird and Lofton in the laboratory reinvigorated their teaching methods as they worked to address their different needs and learning perspectives.
"Their own experiences and perspectives mean they get to share science with others and share the impact of science in a way that people can understand without all the jargon," Jordan said. "There are barriers for everyone, but these can be overcome. They don't block the capacity for people to do great things."
Opportunity Meets Support
Established in 2010, MSU's ACCESS program reflects the university's land-grant mission of serving the needs of all Mississippians.
Its students receive true college experiences focused on academics, socialization, career development and independent living, with the goal of creating gainfully employed and independent citizens at the completion of their four-year stint at the university.
Students take life skills and foundational academic classes each semester, ranging from practical money skills and community access to basic writing. They also audit MSU undergraduate classes of their choosing throughout their enrollment, which allows them to study specific interests. At the conclusion of the program, they receive an MSU certificate of completion with an area of focus.
Unlike other universities where students in similar programs only can pick from a handful of modified courses, ACCESS students can audit almost any MSU undergraduate class. An array of modifications and support exist to cater to students' interests instead of placing them on a pre-selected educational path, said Chris Dallager, who leads MSU's Disability Resource Center, which houses ACCESS.
The program's success, he said, hinges on the partnerships between the DRC and MSU faculty, who ensure students' specific needs are met in their classes. Graduate students from MSU's school psychology doctoral program run social skills classes, coordinate the peer mentor program and handle both academic and behavioral interventions for ACCESS students. Undergraduates work as college coaches, peer mentors and tutors to help ACCESS students build both academic and life skills.
The more than 100 volunteers and supporting staff greatly exceed the almost 30 students currently enrolled in the ACCESS program. This dedication to support pays off. The national average for full-time employment for people with disabilities is less than 40%, but Dallager said the last assessment of ACCESS alumni showed more than 80% employment.
"That's a testament to what we're doing here," he said. "Partnerships like the one with Dr. Jordan and her graduate students are key to getting students the experiences they need for this success."
No matter if Gainwell, Laird or Lofton pursue science-related careers after their time at MSU, Dallager said their job readiness and life skills are much better now because of the opportunity to learn in a real, working laboratory, where they more than proved their capabilities.
"These students were rewarded for actual achievement and their own work, as opposed to being rewarded just for being in college, and that gives them a real sense of pride," Dallager said. "That's the value of ACCESS. Through all of this, our students can grow, and I really do think they're going to change the future."
By Carl Smith, Photos by Megan Bean