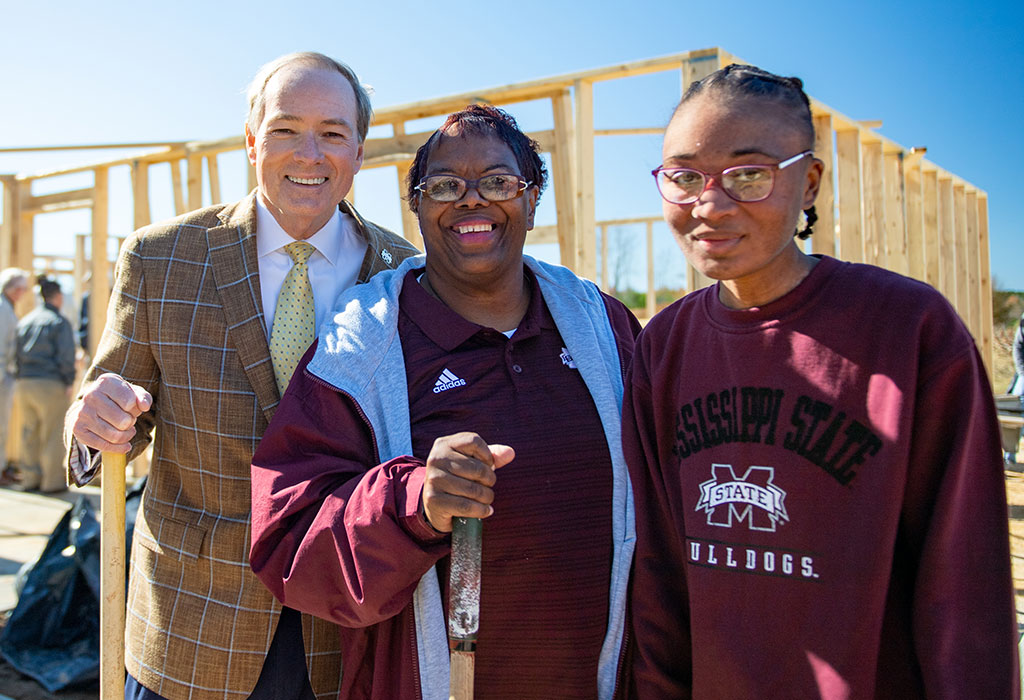 MSU volunteers help area Habitat for Humanity construct new 30-home community 
Homeownership means more to Angela Jennings and Angela Nichols than simply having a house.
This year, working alongside their families and many volunteers with Mississippi State ties, the pair helped build their own homes thanks to Starkville Area Habitat for Humanity.
"A while back, my 8-year-old son Aden said he wanted to build something, and I told him the good Lord blessed us with something great to build," Jennings said. "This was my dream—to own a home that I could raise my family in and eventually leave for them. Some people never get the chance to experience this dream. God blessed me and brought me this far, and I'm taking every opportunity to be out here, help build it and really make it my own."
Excitement for their new homes began building in each family once they learned of their life-changing gift.
"My little girl, Brittany, already claimed her room and picked out what kind of bed she wants," Nichols said. "It means so much to me to get this house, but I take pride in knowing I helped build it. There's nothing better than truly owning your own home."
Jennings and Nichols' homes are the first under construction by local volunteers—many of whom are MSU faculty, staff and students—as part of a project to convert a former dairy farm into a 30-home community over the coming decade. Habitat and MSU representatives first broke ground at the site in late 2022. Known as the Kelly Estates, it is located off 16th Section Road in rural Oktibbeha County.
"Mississippi State is such a big part of the Starkville community, and we've always had strong support from the university," said Amanda Henry, executive director of Starkville Habitat for Humanity. "That support is how we're able to do what we do. I attribute a lot of it to just how giving the MSU community is."
Since its humble beginnings in the late 1970s, Habitat for Humanity has become one of the most well-known charitable organizations in the United States. In 2000, the group dedicated its 100,000th house; 20 years later, it reported more than 35 million people had volunteered or partnered with the organization in some way since 1976.
Locally, Starkville Habitat for Humanity has built 74 homes since its founding in 1986 and now begins construction on two houses each year. Qualifying applicants for each home must be residents of Oktibbeha County, demonstrate a need for better housing, have a credit score that precludes typical home loans, and be able to pay back a 20-year, no-interest mortgage held by the organization. Once chosen, recipients must volunteer 300 hours of sweat equity toward the project and take three self-improvement classes, including one on personal finances, through the local school district and MSU Extension Service.
Linking MSU volunteers to Habitat—and other local, community-minded organizations—is the Maroon Volunteer Center, headed by Alexis Hampton, the assistant director of the MSU Office of Student Leadership and Community Engagement. The MVC has worked directly with Starkville's Habitat chapter for approximately 15 years.
In the last five years alone, Hampton said almost 700 people have volunteered more than 2,000 hours to the local Habitat chapter. This work resulted in almost $60,000 worth of economic impact, she said.
"The misconception is we only serve students. In reality, we serve the entire campus community, and we make sure local community members and families also have access to these opportunities," Hampton said. "We're very much a collaborative effort. It doesn't matter how volunteers get here as long as they get here. We're grateful for the multiple avenues we can provide to supplement Habitat's mission."
MSU also is home to a Habitat for Humanity student chapter with approximately 50 members. In addition to working at build sites, students also volunteer time with other Habitat initiatives, including the Habitat ReStore and Warehouse, a thrift store located on South Jackson Street in Starkville. Sales at ReStore benefit Habitat projects, including the planned community at Kelly Estates.
Incoming club president Kiersten Gilmore, a senior anthropology major, said knowing her work positively impacts families keeps her motivated—even on early weekend mornings of volunteering. Outgoing president Margaret Donaldson, a senior in political science, agreed, noting that it's a great way for students to help leave Starkville a little better than they found it.
"It's such a fulfilling experience," Donaldson said. "By being able to build these homes, you're seeing something that's a physical and lasting change to someone's life—one that's generational."
Kareema Gillon, a Starkville resident who moved into her Owens Street Habitat house in 2017, said she is a living testament to transformative power of home ownership. Besides the immediate impact of having secure housing and an asset that can be passed down to her children, Gillon said she and her family have already made memories that will last a lifetime.
Gillon said she values the time she spent on site with MSU student volunteers. Working at a local restaurant during her home's construction, she brought biscuits and other breakfast items to workers each morning. At the end of the project, workers built a toy chest and a doghouse for her family out of leftover wood.
"Those student workers were the best people," Gillon said. "They came out here and worked on my home as if it was their own. We laughed together and talked about life experiences. They gave me great, encouraging words every day and treated me as if I was one of them.
Habitat and MSU volunteers gave me a home, but they also helped give me peace and motivation," she continued. "They motivated me to always push harder for myself and for my children, and that makes me a better person. They gave me something I felt was out of reach, proving that through God's blessings and hard work, you can get the things you need for your family. They taught me to never give up."
By Carl Smith, Photos by Megan Bean & Grace Cockrell